Animal Magic
GLOBAL
12 June 2006
Botanic gardens everywhere are getting involved with animal projects that work to attract visitors, inspire kids about the natural world and solve some serious conservation problems. Their expertise and facilities are contributing to animal conservation while promoting the importance of also conserving the plants that form the habitat and food source for those same animals.

Rare Toucans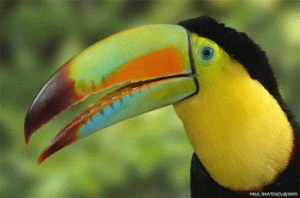 The keel-billed toucan finds support in a botanic garden

Image © Paul Bratescu
As part of the new Amazonia Exhibit that could open next year, Mesker Park Zoo & Botanic Garden is getting involved in a new program to breed a species of toucan that is rare in captivity.

There were 59 keel-billed toucans in captivity in 2003, but the Evansville zoo is joining 11 others in importing 30 birds from Nicaragua to breed. Evansville's birds are sort of Amazonia's show stoppers: They have black feathers and long, colorful beaks. They could be featured prominently in the exhibit logo that will be designed today.

"They're a really dramatic species," said Erik Beck, general curator. "They're spectacular looking. We can have a gorgeous species on display, hopefully have a successful breeding program (and) we can help the population out." Keel-billed toucans have been a tough species to keep in captivity, Beck said. They are listed as a "threatened" species because their habitat has been shrinking. Though they are the largest toucans, they are relatively fragile, Beck said.

They only nest in hollowed-out trees, the temperature has to be no lower than 60 degrees at night and no higher than 85 degrees during the day, and they only diet on particular jungle fruits, insects and rodents.

"Once you hit all those things, then you have a happy, healthy pair of birds," Beck said.

The zoo has several breeding pairs of other species, including zebras, wallabies and monkeys.

There is space set aside for at least one jaguar; the zoo also could accommodate a breeding pair or a family, Beck said.

Evansville's toucan pair arrived in early May and is less than a year old, Beck said. They were born of a wild breeding pair and hand-raised or incubated, Beck said. They are already about 2 feet tall but are still growing flight and tail feathers.

The zoo is not releasing pictures of the birds, which may not be unveiled until the exhibit opens and they have had a chance to get comfortable.

"We'll set them up with a breeding situation and let them do their thing," Beck said. "Let them grow up together, become a pair, and see how they do."


Preventing Frogs From Croaking
Amphibians are undergoing a mass extinction event on a scale unprecedented in human history. Habitat loss, human exploitation, and environmental contamination are among the main causes of this threat of extinction.

A deadly new threat has emerged recently. An infectious fungal disease called amphibian chytridiomycosis is having catastrophic effects on amphibians all over the globe. This disease may well be the result of global climate change. Recent events in Panama illustrate perfectly a pattern of amphibian decline clearly associated with this disease and the power of scientific data to that allows scientist to launch pro-active conservation responses.

Recently, Dr. Karen Lips of Southern Illinois University and colleagues offered a model of a wave-like spread of the fungus across Costa Rica and Panama. This model predicted that in 2006 the rich amphibian fauna in the vicinity of El Valle de Antón in central Panama, would suffer a catastrophic decline because of chytrid fungus.

In response, biologists from Zoo Atlanta and Atlanta Botanical Garden launched an unprecedented pre-emptive extraction of amphibians from areas predicted to be devastated by disease. Biologists flew the frogs from Panama to safer environments in Atlanta. Now 35 amphibian species from this region live in colonies in Atlanta, that assure their survival.

As predicted, the fungus recently arrived in El Valle, and the inevitable deaths are now occurring.

All available scientific data indicate that the amphibian fauna of El Valle has begun its terminal decline that will result in a major loss of regional populations and, quite likely, extinction of multiple species. In this case, scientific data regarding the location of the fungus allowed some pre-emptive conservation measures.

Rapid response led by the Houston Zoo, Panamanian government and Atlanta-based institutions have resulted in a permanent in-country facility for safeguarding critically threatened species. Thus, the endemic species of this region have at least some hope of avoiding extinction. We cannot say the same for many populations and species in other parts of the Central America or the World. Directed research such as that by Reid Harris of James Madison University, Virginia and Richard Retallick of James Cook University in Queensland, Australia offer some hope that, with a bit of help along the way, some amphibians may be able to avoid extinction.

On a global scale, all data indicate that the 2006 catastrophe in El Valle, Panama will be played out at remote locations in many regions around the world in upcoming months and years, underscoring the need for rapid implementation of a global amphibian conservation response.

The situation in Panama reinforces the reality of global amphibian extinctions and the fact that emergency responses, based on real data regarding threats, are necessary in some cases. The ecological effects of the rapid extinction of one third or more of the over six thousand known amphibian species on humans and ecosystem are expected to be substantial.

More about the rare frogs is at http://www.globalamphibians.org/ and the involvement of Atlanta Botanical Garden is here

Bald Eagles Take Off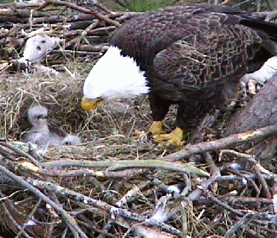 Endangered Bald Eagles find shelter at
the Norfolk Botanic Garden

Three baby bald eagles have hatched, grown and flown at the Norfolk Botanical Garden in Virginia, USA.

Last Thursday, the oldest of three took her first flight, garden officials reported. On Friday, her younger brother followed. The smallest eaglet was seen flapping on a limb 10 feet from the nest, but it was another day or so before he really took off.

The eaglets hatched in March. They have a wingspan of about 6 feet and weigh close to 9 pounds. They live with their parents in a nest about 90 feet up in a loblolly pine tree overlooking the Matson Garden and Renaissance Court.

The garden set up a webcam to offer internet users an up-close look at the eaglets. A weblog about the birds was also set up.
New Nature Center Captivates Children
A thriving animal habitat has been created in a botanical garden and is already enthralling children in the world of nature.

The Huntsville Botanical Garden (HBG) celebrated the opening of the new nature center in May. In the center, more than 2,000 Native American butterflies, frogs, turtles, snakes, hummingbirds and quail flitter, leap, croak, crawl, slither and fly amid waterfalls, ponds and streams.

Three-year-old Mykael Ledet was determined to catch one of the ivory-colored butterflies that kept fluttering around her ears.

"You can't chase them," said her grandmother, Pat Turner. "You've got to stand still if they're going to land on you."

But Ledet was in action mode. She couldn't help but trot around the Huntsville Botanical Garden Nature Center on Friday hoping a butterfly would park on her shoulder.

Dozens more kids and their parents attended the opening of the 9,000-square-foot butterfly house. Hundreds of butterflies danced around the center, which is also home to turtles, tree frogs, lizards and other caged critters.

"As far as we can tell, with the research we've done, it's the largest seasonal butterfly house in the nation," said Harvey Cotten, garden chief operating officer.

The center mimics a rain forest with a waterfall and deep green plants.

"The nature center is really, really spectacular," said Sharon Jordan, marketing director for the garden, who points out that the center's seasonal butterfly house is the largest in the nation. A variety of species, including the monarch, the gulf fritillary and the zebra longwing, will grace the center's skies.

"The whole idea is to capture kids' interest," said Paula Steigerwald, garden chief executive officer.

The idea worked.

When kids weren't ooh-ing and aah-ing at the animals, they were learning about them in the exhibit area, which completes the Children's Center. Press a button and you can hear the sound tree frogs make. Turn the corner to see rare and exotic framed butterflies. And so on.

"It's wonderful. It's fabulous," said Wendy Moriarty, a mother of three enjoying the garden. "It's the best thing in Huntsville."
Visitors to to the center can also attend the "Classroom Under the Sky" amphitheater, the stage for this summer's Renaissance Theatre production of "Robin Hood," or gaze at the three-tier fountain or down upon the wildlife from an overlook.

Members and like-minded volunteers shared ideas from gardens visited around the world and designed the Nature Center and Children's Center around them, said Sharon Jordan, garden director of marketing.

"People would bring back beautiful photographs from Russia and England and say, 'That's what we need in this garden,' " she said. "It's all about being hands-on" . In the dinosaur garden, kids can meander through the exposed rib cage of a brontesaurus or dig for real fossils in the sand. Or they may want to lose themselves in the maze garden or its treehouse, or explore bat caves.

This "is not a big plastic playground," says Jordan. Ideas for the gardens were collected for years, and they were built "to fire up the imagination of children."

The $3 million project includes eight gardens in total. There's a musical bamboo garden, a picnic area for groups, a dinosaur-themed garden, a sunflower and labyrinth maze, storybook area, an ever-changing International exhibit, and, to give Huntsville's heritage its due, a space garden that features an International Space Station node donated by Marshall Space Flight Center.

Backyard Bugs Delight Kids

If 21-month-old Gracie Garrison could speak in complete sentences, she probably would have said something like: "Ooo, cool! Millipedes!"

But at the Rio Grande Botanic Garden's Backyard Bug exhibit last week, it was Gracie's mom who did the talking.

"Eew, yuck! Millipedes!" Tanya Garrison exclaimed, as her daughter giggled and pointed at the 4-inch, 1,000-legged insect slinking over pieces of carrots, grapes and mulch inside a glass terrarium.

"What is it about those things?" Garrison said, rubbing the invisible creepy-crawlies off her skin.

And why, oh why, does Gracie, a fair-skinned cherub with a hankering for touching dead flies on window sills back home, want to poke at it?

"Somewhere along the line between childhood and being an adult, bugs stop being cool and they become pests," said Garrison, adding that she, too, loved to play with bugs as a kid. "Now, they're not something to look at; they're something to avoid."

There's no avoiding them here, though. Inside the Backyard Bug exhibit, the gap between adult and child is as obvious as the march of ants to the picnic table potato salad.

Black widow spiders, tarantulas, velvet ants and millipedes sit, crawl, dangle and scurry inside glass enclosures among a space that looks more like an infested garden than a zoo exhibit.

Kids leap and frolic among vegetable patches and sunflowers, pausing only to press their noses against the glass cases to get a better look at what's inside.

What they see makes their parents take a few steps back.

Call it the eee-ew factor.

"Mom! Look! It's a black lady spider!" one child blasts from his perch at the black widow spider display. "Come look!"

"No thanks," a woman's voice hollers from the shade of a cottonwood.

That's Evelyn Saiz. She has an aversion toward anything with more than four legs.
"I'm not a big fan of this place," Saiz says, eyeing her son Patrick, 7, who had moved from the black widow to a colony of velvet ants. "But he loves it."

For Christmas last year, Patrick begged his parents for a terrarium so he could collect bugs.

"I got him a bunny instead," Saiz says.

Dale Belcher, curator of herpatology and invertabrae at the Albuquerque Biological Park, explains the eee-ew factor as a consequence of simply growing up.

"Kids are still innocent," says Belcher, who heads the Backyard Bugs exhibit as well as the PNM Butterfly Pavilion at the botanic garden. "They don't know they can say eee-ew."

Belcher, a Santa Claus-looking fellow who grew up in an era when horror movies featured 7-foot-tall arachnids, sees the inhabitants of the bug exhibit a little differently than many of the adults here. He sees the velvet ants, with their orange fuzziness and petite features, as adorable and "the perfect subject for the next Disney film." He views the pregnant black widow, which came out of his own backyard, as "graceful and elegant."

"But on the other end of it, sure, she's a horror," he admits. "I might look at a 15-foot crocodile and think, `Cool!' But I can see how this is the primordial nightmare."

The way he tries to help people face their bug fears is to educate them.
"Because knowledge is power," he says, "and you tend not to be afraid of things you understand."

And if that doesn't work, he sends them over to the butterfly pavilion.

"There's no eee-ew factor over there."