New Website: Access & Benefit Sharing
ONLINE
15 June 2006
The Swiss Academy of Sciences just launched a new website on Access & Benefit Sharing: Good Practice for Academic Research on Genetic Resources (http://abs.scnat.ch).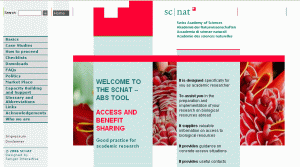 The purpose is to inform the academic community about the system governing access to biological resources and the fair and equitable sharing of benefits.
The website explains the steps that must be taken when accessing biological resources for research purposes. All information is based on the CBD and the Bonn Guidelines.

The Swiss Academy of Science recently published a brochure on Access and Benefit Sharing.
'Access & Benefit Sharing: Good Practice for Academic Research on Genetic Resources', an ABS guide developed by the Swiss Academy of Sciences, is now available in English, French and Spanish. The publication is designed for non-commercial academic researchers wanting guidance on working in other countries, and can be downloaded from the website.
The website is a supplementary utility aiming to disseminate ABS knowledge. It pinpoints viable options for basic research. The target research community is Switzerland but all information can be adapted for other nations.

The website includes some additional features such as a marketplace where scientists are invited to post mutually satifying research experiences and case studies regarding genetic resources. The site also offers updates on current international policy developments, checklists and a download area.

The Swiss Academy of Sciences advocates research in a mutually trustful atmosphere and encourages scientists to streamline their research conduct with existing international standards.
The new site is an important step towards this goal.