Cornerstone of World's Highest Security Seed Bank is Laid
NORWAY
20 June 2006
The cornerstone has been laid for a "doomsday vault" in the Arctic which is designed to secure crops like potatoes, wheat and apples, protecting them from extinction.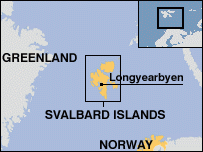 Threats include plant epidemics, nuclear war, natural disasters or climate change; the bank will offer the world a chance to restart growth of food crops that could be wiped out.

Dug into a frozen mountainside on the island of Svalbard, fenced in and guarded, with steel airlock doors, motion detectors and polar bears roaming outside, the 30-million kroner ($4.8-million) concrete facility will, its backers say, be the most secure building of its type in the world.

More than 100 countries have backed the vault, which will store seeds, packaged in foil, at sub-zero temperatures in Norway's remote Svalbard Islands, roughly 1,000 km (620 miles) from the North Pole. Norwegian Prime Minister Jens Stoltenberg marked the start of construction by filling a special cornerstone with seeds.

Stoltenberg said: "The vault is of international importance. It will be the only one of its kind; all the other gene banks are of a commercial nature."

At temperatures of minus 18C (minus 0.4F), the seeds could last hundreds, even thousands, of years. Even if all cooling systems fail, the temperature in the frozen mountain will never rise above freezing due to the permafrost on the mountainside. Planners considered what would happen if global warming continues unabated. Computer models suggest that no matter what, Svalbard will always remain one of the coldest places on Earth.

And if, as some models predict, global warming shuts down the Gulf Stream and turns the Greenland Sea into a place even more frozen than it is now? It will still be easy enough to keep the door clear of snow, according to the analysis.


The Global Crop Diversity Trust, founded in 2004, will help run the vault, which is planned to open and start accepting seeds from around the world in September 2007. The bank is eventually expected to house as many as 3 million different types of seed from all over the world.

"This facility will provide a practical means to re-establish crops obliterated by major disasters," said Cary Fowler, executive secretary of the Global Crop Diversity Trust, a United Nations-linked organization that led the campaign to establish the seed bank.

Fowler, who was the lead writer of a study that led to the creation of the vault, said crop diversity was also threatened by "accidents, mismanagement, and short-sighted budget cuts".

``Despite changes being wrought by global warming, experts believe the deep permafrost will be reliably cool for at least the next 100 years. Even with a complete loss of refrigeration, vault temperatures would never rise above minus 3.5 Celsius or about 27 degrees Fahrenheit.''
The trust has established an endowment that so far has $50 million of the $260 million that will be needed to sustain operations without depleting its principal. Contributions have come from about a dozen countries as well as foundations, seed companies and others.

The vault is one of many strategies being implemented in sync with the International Treaty on Plant Genetic Resources for Food and Agriculture, which came into force in 2004 and has been ratified by more than 100 nations, the most recent being Iran. The United States has signed the treaty, but the Senate has not ratified it.

Already, some 1,400 seed banks around the world, most of them national, hold samples of a country's crops. But these banks "can be affected by shutdowns, natural disasters, war or simply a lack of money," said Mr Riis-Johansen.

The samples will be held in ``black boxes'' that will only be released in the event that all other seed sources have been destroyed or exhausted, according to the trust.

While Norway will own the vault itself, countries sending seeds will own the material they deposit - much as with a bank safe-deposit box. The Global Crop Diversity Trust will help developing countries pay the cost of preparing and sending seeds.

The vault isn't the first attempt by scientists and government to preserve the planet's diversity. The Svalbard bank adds to crop collections in about 1,400 gene banks around the world that are supported by the trust. In July 2004, London's Natural History Museum announced a ``Frozen Ark'' project to preserve the DNA of animals that face extinction.

``If seeds stored in a commercial gene bank are destroyed, and this has apparently happened about 40 times to date, the contents of this gene bank will make it possible to replace the seeds which have been lost,'' Stoltenberg said. ``It is our final safety net.''
Watch the BBC Video about the Vault
The Value of Seed
Scientists estimate there are 2 million varieties of plants used for food and forage today. That includes an astonishing 100,000 varieties of rice, the major staple of the human diet, and more than 1,000 varieties of banana, a nutritious fruit of global importance.

Seeds from these crops, which can be smaller than poppy seeds and as large as coconuts, are invaluable repositories of plant DNA. They are the raw material that farmers and researchers rely on to develop more productive and nutritious plants that can cope with climate change, new diseases or pests.

About 1,400 seed banks already exist, including large national collections in the United States and China; international ones maintained by the Consultative Group on International Agricultural Research (CGIAR), funded by the World Bank, the Food and Agriculture Organization and the United Nations; and small ones at universities and research labs. Seeds are typically stored at minus 4 degrees Fahrenheit, and are periodically removed and germinated to grow plants, whose fresh seeds are redeposited.

But only a few dozen of these banks meet international standards, and even fewer have funding commitments that ensure their long-term maintenance. Indeed, recent surveys have revealed a slow-motion seed bank disaster in the making, with many collections seeing germination rates well below the internationally agreed upon minimum of 85 percent.

Worse, some seed banks have recently been destroyed, the victims of war and unrest in Afghanistan, Iraq and Rwanda and a reminder of the fragility of these resources. A backup bank could resupply regional banks like those.
BGCI Journal Articles on Seed Banking:
Seed Conservation Research: IPGRI's Strategies and Activities
Arboretum Seed Control Experimental Station of St Petersburg, Russia