Happy Planet Index Puts "Poor" Nations Ahead
WORLDWIDE
13 July 2006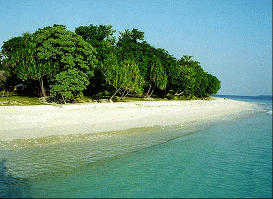 The island nation of Vanuatu, while poor, is said
to be the 'happiest place on Earth'
Image © BBC


A new report is demonstrating that happiness cannot be measured in terms of financial rewards alone, yet all our global decision-making is still based on unhelpful measures of Gross Domestic Product. But what is the point of having a great amount of production, if the people doing the producing are unhappy, and the land cannot sustain the same level of production so that collapse and more misery will ensue?

The New Economics Foundation and Friends of the Earth have asked that question and come up with a solution: the Happy Planet Index or HPI. With the tagline "economics as if people and the planet mattered", the HPI is an innovative new measure that shows the ecological efficiency with which human well-being is delivered.

The report shows that Vanuatu, a small archipelago in the Pacific, is the happiest nation on earth with Colombia, Costa Rica and Dominica coming in the top five. Western indutrialised nations are rated very low on the whole, because social cohesion is less and money doenst in itself make people happier. Of course we all knew that - but this is the first time anyone has tried to make an index that can be used by decision makers.


To find out more, sign up to demonstrate your support and to check your own happiness rating, go to http://www.happyplanetindex.org

Nef is calling for the adoption of a "global manifesto for a happier planet" that will list ways nations can live within their environmental limits and increase people's quality of life. The recommendations include:
Eradicating extreme poverty and hunger
Recognising the contribution of individuals and unpaid work
Ensuring economic policies stay within environmental limits
How It Is Calculated
The HPI incorporates three separate indicators: ecological footprint, life-satisfaction and life expectancy. The statistical calculations that underlie the HPI are quite complex. However conceptually, it is straight forward and intuitive:
HPI =

Life satisfaction x Life expectancy

---

Ecological Footprint
The HPI reflects the average years of happy life produced by a given society, nation or group of nations, per unit of planetary resources consumed. Put another way, it represents the efficiency with which countries convert the earth's finite resources into well-being experienced by their citizens.