Botanic Garden Records UK's Hottest July
UK
24 July 2006
From Reuters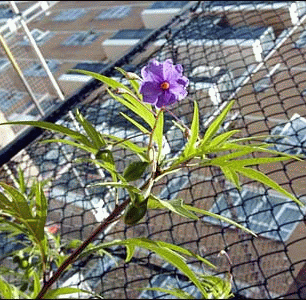 Rare plants are thriving in the unusually hot weather.
Image © BBC
Britain's hottest July day on record was centred on a Victorian botanical garden in Surrey, the Met Office said on Thursday. The thermometer at the Royal Horticultural Society's Wisley Garden surged to 36.5 degrees Centigrade (97.7 Fahrenheit) as Britain sweltered in a heatwave.
"It was very hot - the garden did struggle yesterday," said marketing executive Anna Tomkins. Wisley broke the previous record for July of 36.0 C recorded in 1911 just 10 miles away in Epsom.
"Quite often when we do have heatwaves, Wisley for some reason does become one of the hottest areas," Tomkins said.
Gardeners at the 240-acre site had started work before 6 a.m. to avoid the worst heat of the day, while the air-conditioned apple store at the garden proved irresistible for many staff.
"We would like it slightly cooler so that people can come and enjoy the garden because it does look stunning at the moment," she said. "Despite the hot weather, everything is very colourful."
Temperatures across Britain were back below 28 C on Thursday, cooler than Wednesday's peak but still well above typical July levels.
"The intense heat has passed by for the time being," said a Met Office spokesman, adding that temperatures would remain in the high 20s over the coming days.
The all-time British high of 38.5 C was recorded at Faversham in Kent, on August 10, 2003.
Rare Plant Sighting
The heat is making the UK a more welcoming place for visitors. A very rare sighting of the Australian plant the Kangaroo Apple has been spotted on a housing estate in Westminster.The rare subtropical plant has been thriving because of the heatwave, experts have said.
The Solanum laciniatum, commonly known as the Kangaroo Apple, was found by residents in Churchill Gardens estate in the borough of Westminster. The small shrub with ornate purple flowers and red berry-like fruit is native to south-eastern Australia.
The species has been flourishing in Britain thanks to the mild winters, botanical experts said.
The plant was introduced to the UK by Joseph Banks in 1772 and has been cultivated for its quick growth and spectacular flowers, said the Natural History Museum which identified the plant. Kangaroo apples were used in the former Soviet Union and in New Zealand in the chemical industry for the production of industrial steroids.