Are You Working With Biodiesel or Fibre Plants?
GLOBAL
28 July 2006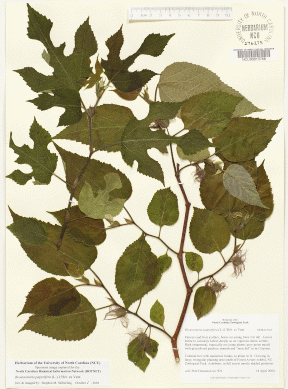 Paper mulberry (Broussonetia papyrifera) grows in Asia.
The bark can be used to make cloth.
Image © North Carolina Botanical Information Network

Dear colleagues,

ICUC is trying to interest the non-food industry in underutilised plants and we have just made very preliminary contact with one company. Are you working on underutilised oil (for energy, not aromatic) and fibre plants?
If so, please send a very brief description (no more than a paragraph) of your project - or plans for a future project on screening or using such plants.
Please let me have your feedback before the end of July (ie next Tuesday).
This is a prime opportunity to develop a public-private partnership project and get funding for innovative ideas.

With best wishes,

Dr Hannah Jaenicke
Director
International Centre for Underutilised Crops (ICUC)
P.O.Box 2075
Colombo
Sri Lanka
Tel: +94-11-2787404 ext. 3307
Fax: +94-11-2786854
email: h.jaenicke@cgiar.org