UK Invests in Chinese Nature
UK - CHINA
1 August 2006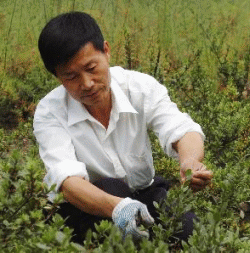 Threatened Chinese plants like this Distylium
chinense are to receive a boost from Britain
Image © Xinhua News Agency

A funding package of £44,900 has been awarded by a group of UK organisations to assist plant conservation in China. The money will be used to help develop a national strategy on the issue, and promote biodiversity.

In addition to £30,000 from the UK Government, HSBC and Botanic Gardens Conservation International (BGCI) have pledged £9000 and £5900 respectively. The funding from the government has been awarded as part of Defra's World Summit on Sustainable Development (WSSD) Implementation Fund.

"China has a wonderfully rich and diverse plant life, and conserving these natural resources will ensure they are around for future generations to enjoy and benefit from," said UK Biodiversity Minister, Barry Gardiner, in Shanghai.

"This project will provide the platform for dialogue and the development of a national response for implementing the Global Strategy for Plant Conservation in China, which provides a practical tool for countries around the world working towards the plant elements of their 2010 biodiversity targets."
Mr Gardiner is visiting China, Malaysia and Thailand focusing on the prevention of wildlife crime through local, regional, national and international cooperation, and the sustainable management of forests.
He added "Many nations around the world have committed to significantly reduce the rate of loss of biodiversity by 2010 globally.

"Plants play a fundamental role in our natural environment, from the air we breathe, the water we rely upon, to the food we eat, and their protection is just as important as some of our more well known animal species.

"The project we are funding will bring together senior representatives of the government agencies in China to identify priorities, drawing on a wider range of national experience, and develop a national action plan for implementing the global strategy."

Mr Gardiner said that the UK would work in close partnership with Chinese colleagues.

"Our UK model for the Global Strategy for Plant Conservation is a good example of turning policy into action and a strong partnership between our countries can only benefit both our natural resources."

The project will be delivered through BGCI and the Joint Nature Conservation Committee (JNCC) from August 2006 - 2008.

The workshop will include a range of stakeholders, including State Environmental Protection Administration (SEPA), State Administration of Traditional Chinese Medicine, China Wild Plant Conservation Association, government ministries, business, and non-governmental organisations.