Climate Change Talk at Botanic Garden
SCOTLAND
31 October 2006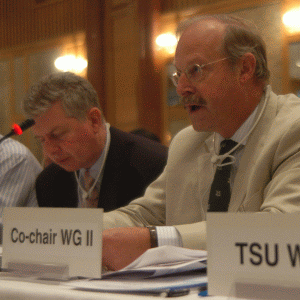 Professor Parry is a leading voice in the debate on climate change
Image © Linkages
Global warming expert Professor Martin Parry, co-chairman of the Intergovernmental Panel on Climate Change (IPCC) group on Impacts and Adaptations, and tomorrow is set to give a lecture at the Royal Botanic Garden Edinburgh on the worldwide risks of climate change. Professor Parry, who received an OBE in 1998 for services to the environment, expects that the long summers and wet winters seen in recent years in Scotland will lead to more extreme events in years to come.

"One of the major effects of climate change has been, and will continue to be, the exaggeration of an axis which exists in Britain. This has broadly meant that as you travel towards the south-east of the country the climate gets warmer and dryer, and as you go to the north-west it becomes colder and wetter. That is likely to be seen even more strongly in years to come," he said.

"There is no question that climate change is having an effect on the weather. The global climate has risen by about half a degree in the last 100 years, and even that is enough to make a noticeable difference. All the indicators suggest it will continue to rise in future, and we will see more extremes.

"In Scotland, around the Edinburgh area, that is likely to mean more frequent warm, dry summers, as well as more heavy downpours of rain in autumn.
Royal Botanic Garden's Phenology Project: Altered Flowering Times Evident
The Botanic Garden has been keeping records on the climate for more than 100 years through its phenology project, which began in 1850 and studies seasonal changes in plants in relation to climate.

Its records show that 50 years ago, the average local temperature in September was 13C. This year the average temperature in September was one and half degrees higher (14.5C), a rise which may seem small in numerical terms, but which has had a huge impact on our environment.
The project, which has been carried out intermittently, was restarted after a break of several years in 2002, but even in that short time they have seen significant reactions from plants to the changing climate. One of the most startling observations has been the early flowering of spring plants, with plants now flowering more than 20 days early.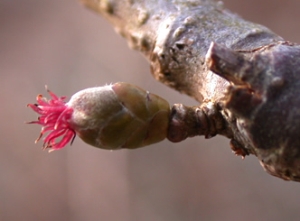 Female flowers of the hazel: dramatic changes in timing
Image © Carl Farmer
Flowering of the Hazel Corylus avellana, or flowering catkin, has been advancing spectacularly ever since 2002, at 18 days a year up to last spring. Last year the plant first emerged on November 26, and this year it is already in flower, some 32 days earlier, pushing the average advancement up to 22 days a year.
Other plants are extending their flowering season, from winter-only or spring-only to autumn-winter-spring flowering plants.
The wych hazel, for example, traditionally flowered in mid-winter, but is now flowering from September through to February.
The winter jasmine, traditionally in flower between winter and early spring, is now flowering from September to April, and the Lily-of-the-Valley bush, once only seen in early or mid spring, now flowers from September right through to April.
Stephan Helfer, a botanist at the Garden, believes this will affect the usual spring flowering season in the UK.
"There is no doubt that it has been a very warm October, much warmer than would be expected, and obviously that is having an effect on the plants," he says. "Some plants, like the trees which are already shedding their leaves, take their triggers from light, so the temperature is less of a problem.
"But many plants rely solely on the temperature, and so already I have seen rhododendrons beginning to bloom, simply because the weather is warm and the conditions are right. This is likely to mean that when spring comes around there will be a much poorer display from such plants, and if the cold weather comes in suddenly it will be very harmful to the plants.
"On the plus side, it has been a great time for mushrooms, with the warm weather and quite steady rainfall creating ideal conditions for them."