Are There Any Greek Endemics in Your Garden?
KILKIS, GREECE
7 November 2007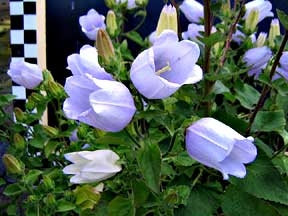 Campanula incurva is available for sale at US
nurseries but threatened in its native Greece.

For 130 years, the Adonis cyllenea, a yellow anemone from the Peloponnese, was considered extinct until a few clusters were recently discovered on a rugged mountainside. Yet for decades, any Dane or Swede has been able view this lovely flower in the botanic gardens of Copenhagen or Gothenburg, where the Adonis cyllenea graces the Greek flora sections among dozens of species native to Greece.
This is just one example of an estimated 500 endemic species that have been removed from Greek mountains over the past three centuries. Now the Balkan Botanic Gardens of Kroussia (BBKK), at Pontokerasia in the prefecture of Kilkis, northern Greece, has begun a campaign to have them returned.

Eleni Maloupa, one of the botanists behind the campaign, says "Greece, along with most countries in the Balkans, is home to the richest and most interesting native flora in Europe."
"Unfortunately, access to Greece's phytogenetic resources appears to be open to all and there is no control over the profits earned by foreign organizations and individuals trading in them," she adds.
"The BBKK appeals to all botanic gardens and other organizations for the purpose of repatriating documented plant material collected from the wild in Greece and the Balkans and taken to other countries before or after the Convention on Biodiversity was signed."
Extraordinary Catalogue of Expatriation
The Royal Horticultural Society's Plant Finder (1999-2000) includes rare endemic species from Greece that are listed in the Red Data Book of Rare and Threatened Plants, in sections II and IV of the European Union Directive 92.43, and on the World Conservation Monitoring Center's lists.
In all, 115 different rare endemic Greek species (more than 15 percent of all Greece's endemic species) have been found at various sale points in Britain. Typical among these, said Krigas, are the Cretan endemic Origanum dictamus, Campanula incurva (central and southeastern Greece) or the Helichrysum sibthorpii from Mt Athos, which is also included in the International Berne Convention.
Just a few other examples are Abies cephalonica (Cephalonian fir), Campanula andewsii, Crocus hadriaticus and Crocus cartwrightianus, Fritillaria spetsiotica and Fritillaria thessala subsp. Ionica, Ebenus cretica, and Viola athois.
Although it is clearly set out in Paragraph 15 of the Convention on Biological Diversity (Rio 1992) regarding access to a country's phytogenetic resources, the Greek authorities have not issued any official permit for collecting plant material from the natural environment, and no official agreement has yet been signed, according to Greek botanists.

Next Steps