Botanic Garden Provides Windfall for Local Artisans
PHILIPPINES
15 August 2007
In the Philippines, local craft workers are benefitting from a new source of materials for their carved key chains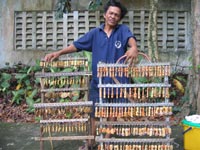 Local artisans make a range of souvenirs out of materials they harvest from the garden
and toys.
Makiling Botanic Garden has set up a partnership with them allowing the workers to harvest wind blown wood and twigs from the garden. The wood is fashioned into guitars and other novelty keyrings then sold to visitors to the garden.
Roberto Cereno, from Makiling said 'It is an ideal partnership, the garden provides raw materials and the artisans make souvenirs for our visitors. Each item is carved or stamped with our name – so they also act as reminders or additional marketing for the garden. Plus this is a practical way we can support some of the poorer local communities'.
Roberto said the programme started in 2001 "I facilitated the development of an organisation and discussed concepts and assistance in the design of souvenir items". Robbie also roped in the Los Banos town mayor to help in providing start up capital (loan at 0% interest) to enable the artisans to buy the tools, varnishes, brushes, and so on used in making the handicrafts. The group has since grown to 50 members, and demonstrates the benefits of creating partnerships between botanic gardens and their communities.