Making Waves for Water Conservation - Latest Roots Out Now
BGCI
6 November 2007
When we started to plan this water-themed issue of Roots, we were blissfully unaware that the summer of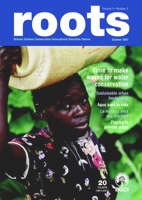 Roots 4:2 is out now


2007 would emerge as the wettest since UK records began. And yet what happened here is nothing compared with what was going on elsewhere in the world. As the rains came down and rivers burst their banks throughout Africa, Latin America and Asia, millions of people were left homeless and without safe drinking water. At the same time elsewhere in the world, millions of other people were and are facing serious and potentially catastrophic drought conditions.

The relationship between plants and water is intimate and complex. Healthy and diverse plant cover is essential in maintaining viable watersheds, streams and lakes. They hold soil in place, control stream flows and filter sediments from water. Wetlands, among the most productive ecosystems on Earth, provide habitats for a very wide range of plants and animals and are important breeding and nursery areas for fish, birds and invertebrates. They also act as a buffer zone between landscapes. Yet the destruction of wetlands and forests is an all too familiar story and a major cause of increased flooding and lack of fresh water. Global climate change is likely to amplify the range and impact of both flooding and drought.

Botanic gardens are ideally placed to raise awareness about these issues and in this issue of Roots we highlight some of the valuable work they are doing. We have case studies from Sheryn Pitman of Adelaide Botanic Garden in Australia, Shawn Olsen and colleagues at Utah Botanical Center describe their range of educational activities, Claude Stephens Education Director at Bernheim Forest, describes their wonderful new Visitor Center with its aim to connect people directly with their watersheds. Sonia Benítez and colleagues at Cuba's National Botanic Garden describe the activities organised for World Water Day. Monique Paternoster and Olivier Riviere at the National Botanical Conservatory, Reunion Island show how the garden is leading the fight to eradicate the mosquitos, carriers of malaria and chikungunya. Ros Semler from Royal Botanic Gardens, Melbourne leads us through the changes the garden has made to reduce their water consumption 60%. Geoff Hopkins, of PlayPumps International describes a water system that is offering hope to millions of people living across sub-Saharan Africa

In his seminal book, Silenced Rivers: the ecology and politics of large dams, Patrick McCully writes that 'part of the answer to the water problems experienced in many parts of the world lies in protecting forests and wetlands and regenerating wetlands which have been degraded. If this is not done then no amount of new dams or other technologies will be able to prevent droughts and floods'. This issue of Roots demonstrates that botanic gardens are part of the answer. They can and are playing a major role in educating people about the critical association between plants and water and empowering them to changes their behaviour and attitudes towards a wiser use of water.


Join BGCI with the Education subscription.