Flowering of rare Pitcairn Island plant at the National Botanic Gardens Dublin
28 January 2010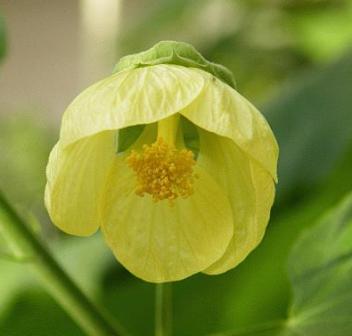 Abutilon pitcairnense
(left) is only found on the small island of Pitcairn in the middle of the Pacific Ocean. It was presumed extinct on the island, until Islander Carol Warren discovered a flowering specimen in July 2002. Cuttings and seed were obtained from Carol's sole discovery in 2003, by National Botanic Gardens botanist Dr. Noeleen Smyth.
Cuttings from the original were brought to Trinity College Botanic Gardens in 2003 and these flowered in 2005 but no seed were obtained. A cutting was brought to the
National Botanic Gardens, Glasnevin in 2008 and propagated by Seon Kelly; these small plants were planted out in the East Wing of the Curvilinear range in 2009. Since then they have been carefully tended by Michael Higgins, who noticed flower buds appearing in December 2009.
The first bud has opened, and with many more flowers to come it is an exciting time. The species remains critically endangered, and it is hoped to experiment to obtain seed from these flowering specimens, for genetic analysis, species recovery efforts and the development of a cultivar for horticulture. International conservation bodies have expressed great interest in the species, and the Mohammed Bin Zayed Conservation Fund is currently supporting the research into this species at the gardens.