The Oman Botanic Garden celebrates first habitat display planting
OMAN
26 April 2010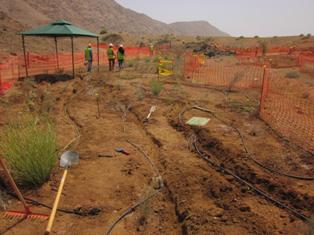 The Oman Botanic Garden has celebrated the planting of its first habitat display. This first exhibit highlights the flora of Oman's northern gravel desert which extends naturally into the area of the botanic garden itself. In the lower areas on foothills the vegetation is dominated by
Euphorbia larica
-
Acacia tortilis
woodland associated by low scrubland. Higher on the foot hills on more rocky ground, the endemic
Barleria aucheriana
becomes more frequent.

All of the plants that were planted were grown at the botanic garden's nursery from seed that had been collected by garden staff over the last 3 years. The habitat planting has brought into cultivation many species of plants that have never been grown before and it will greatly assist to encourage the use of Oman's indigenous species in horticulture.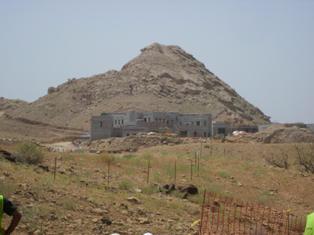 The exhibit will also provide visitors with a much better impression of the gravel desert's flora and will interpret the relationships between some of the plants and the people who have lived in the region for thousands of years.
This first planting played an important role in training the staff of the botanic garden to better understand the planting process and the re-creation of the natural habitat in which the plants grow.
The planting of the Northern Gravel Desert is a part of Phase Two of the Oman Botanic Garden's development. This second phase also includes the construction of the Orientation Centre and the Heritage Village as well as the Research Centre (including laboratories, a library and the herbarium) and the Education Department's Field Study Centre. The next area to be planted will be the sand dune habitat and it is planned be done in October this year. boards.
Representatives of both BGCI and the Royal Botanic Garden Edinburgh assisted with the planting and the rehabilitation. Both organisations have played an important role in providing support throughout the development of the Oman Botanic Garden.
To learn more about the Oman Botanic Garden
visit the website and register
for regular updates in English or Arabic.