Botanical illustration exhibition highlights the art behind conservation
3 September 2010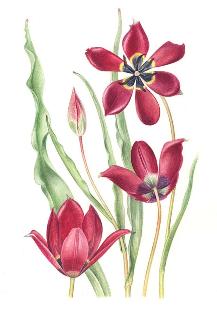 Tulipa cyperia, Cyprus tulip, Endangered

The traveling exhibition, "Losing Paradise? Endangered Plants Here and Around the World," recently opened at the Smithsonian's National Museum of Natural History in Washington, DC. The exhibition, a collaborative effort between the American Society of Botanical Artists and the museum, showcases botanical illustrations and features work from several renowned artists.

Focusing on global conservation, the exhibition educates the public about endangered, threatened and extinct plants and highlights the unique and provocative way scientists and conservation biologists are approaching the loss of plant biodiversity - particularly through their work with botanical artists whose captivating and scientifically accurate images serve as an essential historical record of plant species.


With 44 framed artworks by various international artists from Australia, Brazil, Israel, South Africa, South Korea, the United Kingdom and the United States, eight interpretive panels, two cases of specimens and objects from the museum's botany collection, "Losing Paradise?" tells the valuable and fascinating story of species like the critically endangered
Mortoniodendron uxpanapense.
It was found when researchers re-evaluated collections from the 1980s, and it is documented through artistic illustration using the museum's herbarium specimens.
"Determining which species are endangered is a complicated endeavor,
" said exhibition curator and conservation biologist Gary Krupnick .
"With conservation assessments of plant species woefully behind, we are devising ways to use data from historically collected specimens to identify rare and endangered plant species. The museum's work in conservation assessment is critical as each year more species are lost to habitat destruction and degradation."
A companion website
to the exhibition features a study of the illustrations of endangered plants and a view of herbarium specimens up-close, a chance to share your own botanical illustrations with others online, and a way to send a painting of an endangered plant to a friend via e-postcard. An
exhibition catalogue
is also available, with essayists including; Peter H. Raven, President of the Missouri Botanical Garden, Sir Peter Crane FRS, former Director of the Royal Botanic Gardens, Kew, and now Professor at the University of Chicago, Kathryn L. Kennedy, President of the Center for Plant Conservation, Gary A. Krupnick, Head of the Plant Conservation Unit, Department of Botany, Smithsonian's National Museum of Natural History and James Miller, Dean and Vice-President of Science, New York Botanical Garden.