Kunming seedbank gives rare plants chance for survival
CHINA
3 September 2010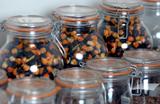 China's first national seed bank for wild plants, the Germplasm Bank of Wild Species at the Kunming Institute of Botany in Yunnan province now contains some 30,000-plus seeds.
However, there is often a long interval between collecting seeds and understanding a plant's properties (even the species' name) due to a shortage of seed biologists, taxonomists and pre-existing data. Of the 30,000-plus samples at the Kunming seed bank, only about 5,000 species have been identified.

A lack of information on plant habitats and their conservation status poses a problem for understanding the global biodiversity picture. Consequently, the Kunming Institute of Botany seedbank has utilised its international partnerships, particularly with the Millennium Seed Bank, through joint field trips and fund-raising, staff exchanges and annual training.

Seeds are duplicated and shared among the global network of banks, with the Kunming bank storing seeds for the World Agroforestry Center in Nairobi, Kenya, and the Millennium Seed Bank, UK.

As the largest seed bank for wild plants in Asia (it has a capacity of 170,000 samples), the Yunnan base also aims to take a more prominent position in global conservation, said its director Li Dezhu.

By storing seeds for Southeast Asian countries that do not have banks, like Laos and Cambodia, it will help protect threatened species from across the continent.

"We're planning to safeguard, store and save their species for free because China is a larger country and should play a more important role in the international community," said Li.

Next January, the institute will hold a series of conferences and training workshops with Southeast Asian countries to plan joint botanical surveys and research projects.

Paul Smith, Director of the Millennium Seed Bank, described China's role as "pivotal." "The Chinese get it," he said. "They recognise the value of their wildlife diversity, one of the main reasons being that traditional Chinese medicine uses more than 5,000 plant species, and that's a multibillion-dollar industry. This is so important for the battle to persuade people to look after all plants, not just agricultural plants."

For conservationists, the seed bank also reflects China's implementation of global agreements to slow the rate of extinction.

This year is the United Nations' "International Year of Biodiversity" and one of the targets of its Global Strategy on Plant Conservation is to have 60 percent of endangered species in accessible ex situ conservation facilities by the end of 2010, something that has already been achieved in China.

"The seed bank is part of the Chinese government's commitment to the UN Convention on Biological Diversity and one of the ways China is demonstrating its efforts in biodiversity conservation overall," said Huang Hongwen, director of the South China Botanical Garden and a contributor to the global strategy.

Worldwide, seed banking efforts are at risk from uncertain financial and political backing. While some projects in Africa have come to a halt, China is one of the countries maintaining the funding for seed collection.

"In the difficult financial climate, the Chinese government is showing the lead and has provided substantial funding for Kunming to enable collections for the next 10 years," said Smith.

As the seed bank moves into full operation, its scientists will continue building capacity, training students and conducting experimental trials to determine the optimal seed storage conditions. Their next major target is to bank 19,000 species by 2020.

One of the challenges for the future, however, is conserving threatened species that are not bankable. In southeast Yunnan, the construction of a regional dam in Malipo county poses a serious risk to a critically endangered tropical tree, the Vatica xishuangbannaensis.

"That was only the third wild population we found but the area will be submerged soon," said botanist Cai. "We're hoping to translocate them but we can't keep the seeds because they don't do well frozen."

In many other places, habitats are being lost faster than the seed collectors can act. Yet Cai remains determined and optimistic, in part because of the seeds themselves.

"If you travel from one place to another, you realize that nature is fantastic and China is big. We can do something for the next generation," he said. "For me, a seed is hope."