New International Declaration for Ecological Restoration by Botanic Gardens
11 April 2011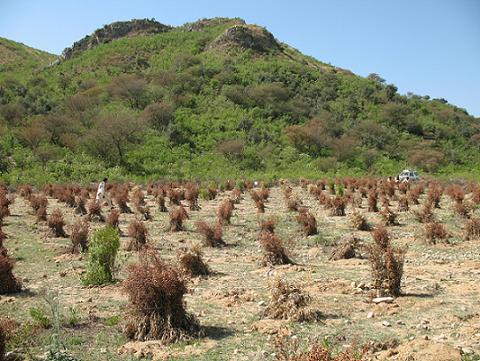 Above: Habitat recovery of scrub thorn vegetation in the Soan Valley, Punjab Province, Pakistan (March 2011). Planted seedlings of Acacia modesta and Olea ferruginea are protected with branches of Dodonea viscosa. A joint project of Government College University Lahore, Pakistan, and BGCI.

The Botanic Gardens Ecological Restoration Initiative ('The New York Declaration') was agreed by eleven organisations at a meeting in New York, USA in March 2011.

The opening paragraph of the Declaration reads:
'Terrestrial ecosystems are being degraded and used unsustainably worldwide and are at risk of further degradation or imminent loss. Forty percent of the world's forests have been completely destroyed and much of what is left is fragmented. In many of the more seriously affected places, remaining habitats are not adequate for biodiversity conservation nor can they provide key ecosystem goods and services that supply fundamental economic benefits and contribute to poverty alleviation.'

The Declaration ends with a pledge to 'develop a global alliance of botanic gardens for ecological restoration with ambitious long term goals'.

The Declaration is supportive of the renewed and strengthened Global Strategy for Plant Conservation which, in Target 8, calls for "At least 75 percent of threatened plant species in ex situ collections, preferably in the country of origin, and at least 20 percent available for recovery and restoration programmes". The renewed GSPC was agreed by at the Conference to the Parties (COP10) of the Conventional on Biological Diversity at in Nagoya, Japan in Autumn 2010.

The eleven parties to the New York Declaration are:


Botanic Gardens Conservation International
Royal Botanic Garden Edinburgh, UK
Royal Botanic Gardens, Kew, UK
Missouri Botanical Garden, USA
Chicago Botanic Garden, USA
The New York Botanical Garden, USA
Instituto de Pesquisas Jardim Botânico do Rio de Janeiro, Brazil
Brackenhurst Botanic Garden (Plants for Life International), Kenya
Kings Park and Botanic Garden , Australia
Jardín Botánico Francisco Javier Clavijero, Mexico
South African National Biodiversity Institute
Read the full text of The Botanic Gardens Ecological Restoration Initiative (PDF)
All botanic gardens that are interested in working together on ecological restoration are invited to contact Sara Oldfield at BGCI (sara.oldfield@bgci.org).
Read more about the joint ecological restoration project of Government College University Lahore, Pakistan, and BGCI.