100 Plant Facts - new publication for children launched in association with BGCI
23 January 2012
A new children's publication: 100 Facts - Plant Life is about to be published in association with BGCI. The book helps young minds to discover 100 amazing plant facts – from how species survive in different environments to the connections between plants, animals and humans. Activities, quizzes and cartoons adorn almost every page and are a great way to inspire interest in the fascinating topic of plants.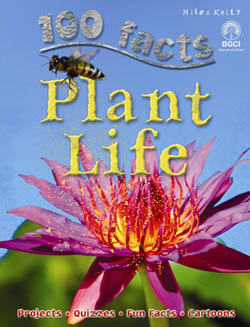 The 100 plant facts are educational yet exciting and are aimed at children aged 7 to 10 years. It is published by Miles Kelly and is part of the '100 Facts' series, perfect for schools or home and provides a great way to get children interested in the field of plants. The book includes illustrations and photographs, as well as projects to make and do. You can discover how plants grow and breathe, why the titan arum flower is so smelly, what plant grows 30 cm in a single day, how cacti survive in scorching deserts and what plants enjoy meaty snacks. The book shows what steps people can take to make the future greener and how to live in harmony with plants – after all they produce the oxygen we breathe. Currently, nearly half of trees cut down are used to make paper and the rainforests of Borneo are being destroyed at such an alarming rate that it is thought orang-utans will soon be homeless. Hopefully, this book will inspire future generations to protect these important resources through the exciting world of facts; as well as build awareness of important organisations such as BGCI
Why not buy it as a present, or give it as a donation to your local school? By spreading the word through literature, knowledge and understanding of the world's most important resource can be enhanced and developed.
Download the advance information about the book here