BGCI launches 'Advanced Search' function for GardenSearch database
6 February 2012
With generous support of the United States Botanic Garden, searchable information on botanic garden expertise, facilities and activities is now just a mouse-click away with BGCI's new 'Advanced Search' function for its GardenSearch database. This additional search functionality provides unique online access to data on more than 3,000 botanical institutions worldwide and demonstrates the collective conservation and research resources available within the global botanic garden community.
Available on the BGCI website (www.bgci.org/garden_advanced_search.php), GardenSearch provides an easy tool to find out which gardens are doing what, with the results of searches conveniently downloaded and mapped if desired. The Advanced Search not only locates institutions geographically and by keyword, but now allows users to explore in more detail the education, public outreach, conservation and research facilities and expertise offered at botanic gardens everywhere.
GardenSearch Advanced Search: 434 gardens with a Plant Records Database (JAN 2012)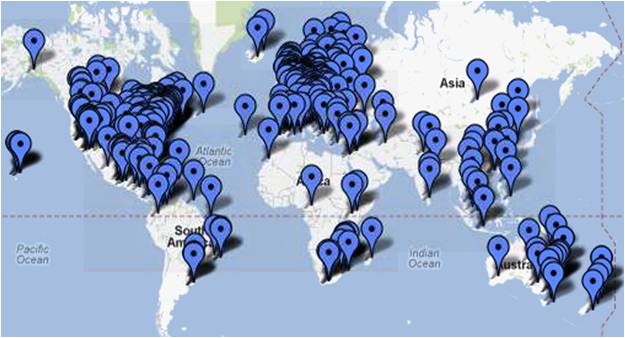 The data held in GardenSearch are continually updated, and BGCI relies on the botanic garden community to ensure data are up-to-date and accurate*. The following statistics are just a few examples of the data reported by gardens and searchable via the new Advanced Search function, as of January 2012: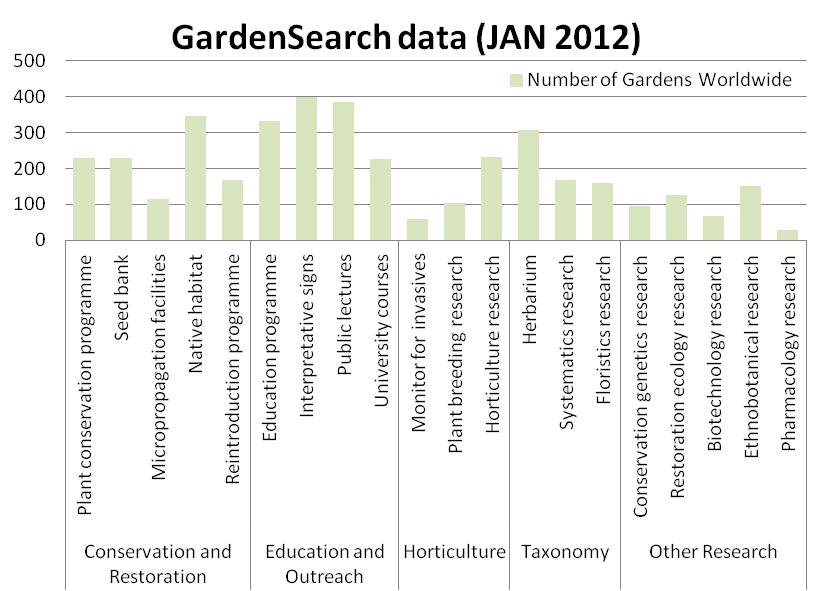 GardenSearch History
Launched online in 2004, GardenSearch, along with PlantSearch, are the only free global databases of botanic gardens and the plants maintained in them. Recent applications of information contributed by gardens to these databases include Saving plants, saving the planet (Sharrock et al., 2010); Conserving North America's Threatened Plants (Kramer et al., 2011); and Global Survey of Ex situ Zelkova Collections(BGCI, 2010).
Help GardenSearch Grow
BGCI is working to develop GardenSearch into a more comprehensive and usable database of the resources available within the global botanic garden community in order to support information-sharing and collaboration within the botanic garden community, as well as research and conservation applications such as the Global Strategy for Plant Conservation.
SEE AN ERROR IN THE DATA? We rely on gardens to update GardenSearch information on an annual basis via the Garden Editor login. To login and update information for your garden, please register as a Garden Editor at http://www.bgci.org/garden_apply.php and login to your garden profile in GardenSearch.
HAVE FEEDBACK FOR US? BGCI is excited to offer this expanded service, but we know there is much more to do. In 2012 we will continue to upgrade the GardenSearch and PlantSearch databases, and would welcome your comments and suggestions on how they can be made more useful to you. Send comments to gardens@bgci.org.
* Data contained in GardenSearch is primarily provided and managed by individual institutions— BGCI attempts to maintain up-to-date data for our members, but we cannot guarantee the completeness or accuracy of data. BGCI welcomes and encourages garden staff to register as a Garden Editor to maintain and update their institution's GardenSearch profile.