Haiti's reforestation plans – hope to people and rare plants
12 April 2013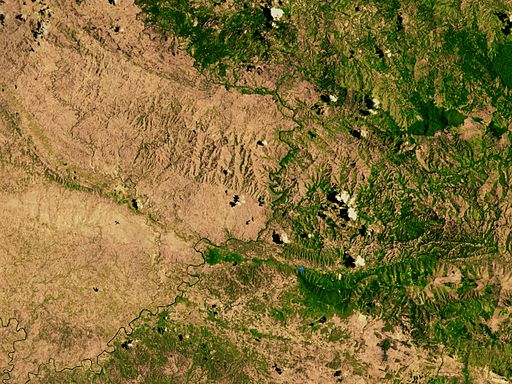 The border between Haiti and the Dominican Republic: Haiti's practically barren landscape is on the left, to the right larger swaths of forest still remain in the Dominican Republic.
A revolutionary campaign, driven by President Michel Martelly, plans to plant 50 million trees a year in order to address one of the root causes of poverty in Haiti – deforestation. Great news for plant conservation, but is it achievable?
Home to approximately 1,800 endemic plant species, Haiti now has a devastatingly low forest cover of only 2% - one of the lowest rates in the world. There is therefore huge potential for these planned restoration efforts to incorporate the aided recovery of many unique and endangered species in the region.
The campaign, which seeks to "turn every Haitian into a forest guard", aims to achieve an ambitious 29% forest cover within 50 years according to Environment Minister Jean François Thomas.
Haiti, however, is not only one of the most deforested countries in the world, it is also the poorest in the Western Hemisphere. The widespread decimation of Haiti's forests comes from a long history of agricultural exploitation and excessive timber harvest, and attempts to reduce natural resource degradation have so far been severely inhibited by the country's political and socio-economic instability.
In order to tackle the poverty crisis, it is imperative that the country's ecological vulnerability is addressed. The deforestation rate is an estimated 90%, largely through collection of fuel wood and charcoal. Approximately 30-40 million trees a year are cut down. This has lead to degraded soil, decreasing agricultural yields, water scarcity, and decreasing farming income. It also worsens the impact of natural disasters, making landslides far more likely following heavy rain on the bare mountainsides, or 2010's devastating earthquake. This leaves very little hope for the regeneration or survival of Haiti's threatened plant species, of which there are approximately one hundred.
In order to combat deforestation, the government has stated it will be enforcing fines and prison terms for illegal logging, especially in protected areas. The campaign also aims to change Haitian people's attitudes using environmental education via radio programmes, pamphlets and the school curriculum. The use of sustainable cooking alternatives to wood or charcoal, such as solar, kerosene or propane stoves, will also be promoted. There is a degree of scepticism, however, as to whether the government will achieve these ambitious and much-needed objectives.
Ecologist Joel Timyan, a member of the IUCN-SSC Global Tree Specialist Group (for which BGCI provides Secretariat) was quoted in the Guardian's coverage of this story, saying:
"The Haitian government does not have a consistent record in terms of medium- to long-term projects, particularly in terms of controlling the drivers of deforestation (sharecropping for cash crops, charcoal, pasture, illegal poaching) on the land...

...Reforestation would proceed more effectively without tree-planting if mechanisms were enacted to restrict access to land."


Hope for Magnolias?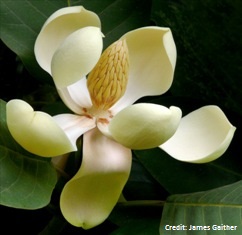 Of the 100 threatened plant species found in Haiti, three are magnolias. BGCI have been instrumental in the collation of information on red listed species of magnolia for The Red List of Magnoliaceae. This publication provides one of the few attempts to assess the global conservation status of an entire plant family. The hope of BGCI is that the planned restoration efforts will attempt to incorporate some of threatened species of the island, including these endangered magnolias:
Magnolia domingensis
Found in both Haiti and Dominican Republic it is critically endangered but populations remain relatively protected in a National Park in the Dominica Republic where deforestation rates are not as high as in Haiti.

Magnolia emarginata
Endemic species found in northern Haiti, there have been no sightings of this species following a major storm which destroyed a large portion of its known distribution. Surveys are needed to determine whether this species survived.

Magnolia ekmanii
Endemic species which remained in only one location in south-west Haiti but is now most likely extinct. A survey in La Visite National Park did not yield any sightings.
Magnoliaceae is a family of exceptional evolutionary interest as these plants display many traits that are considered evolutionarily primitive. They are also valued for their timber, medicinal and food products, and ornamental values. All of the above species used to be found in pine forests at high elevations but have suffered severe decline due to extraction for charcoal and construction uses. Sadly, no seeds have been collected for ex situ conservation of any of these 3 species. The prospect is dire for Haiti's magnolias, but if we can prevent other threatened tree species from suffering the same fate then these reforestation plans could still have huge benefits for global plant conservation.
Both poverty and political unrest are huge obstacles for Haiti to overcome, but halting the loss of their last remaining forests and the irreplaceable biodiversity held within could prove key to the country's recovery. The success of these restoration efforts may seem a small hope to some, but it's a big step in the right direction for people and plants alike.