Plant Conservation Day and Second International Fascination of Plants Day – 18th May 2013
10 May 2013
Botanic gardens, museums, science centres, universities, schools, and many others worldwide will all be celebrating the wonders and importance of plants on Saturday 18th May 2013 for the second ever international "Fascination of Plants Day" (FoPD).



Planting seeds

Despite there being an estimated total of 370,000 plant species worldwide, it's not always appreciated just how important plants are to our everyday lives. We need plants for the oxygen we breathe, the food we eat, the houses we live in and the medicines that save our lives. They provide a range of vital ecosystem services and are not only essential for our survival, but the survival of most other living creatures on Earth.

Launched under the European Plant Science Organisation (EPSO) the aim of FoPD is:

"to get as many people as possible around the world fascinated by plants and enthused about the significance of plant science."

It is hoped that the events and activities held on FoPD will open people's eyes to the incredible nature of plants, and spark curiosity and awareness for the future.
A Global Celebration
Public events and activities have been planned by botanic gardens around the world both on May 18th, as well as throughout the week of 13-19th May, to ensure as many people are involved with and thinking about plants as possible. From hands-on workshops and family activities, to presentations from top scientists exploring new potential applications of plant science.
May 18th was chosen for Fascination of Plants Day in order to coincide with Plant Conservation Day, which was started in 2001 by the Association of Zoological Horticulture (AZH), and has been actively celebrated by zoos and botanic gardens throughout the United States since then.
Around the World in 9 Events:
Here are a few tasters of planned FoPD 2013 events from across the globe, starting and ending in the United Kingdom: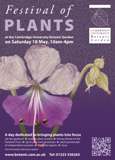 First up: Cambridge University Botanic Garden in the UK is holding a "Festival of Plants" with a vast range of activities on offer from "ask the gardener" sessions, to pop-up plant science demonstrations on how to extract plant pigments and how to take a leaf's temperature. Children can make their own garlands or dream up fantasy flowers with the Garden's visiting flower fairies. A range of tours are also on offer to learn about different plant families and their identifying features, as well as tree collections, wildflowers and bee plants.

Over in Meise, Belgium the National Botanic Garden of Belgium have three very different activities on offer: 1) behind the scenes tours featuring Herbarium specimens and demonstrations of scanning electron microscopy, 2) a family journey through the greenhouses of the Plant Palace to discover unusual plant species, and 3) a photography exhibition both at the garden and online featuring plants of all types photographed by amateurs and professionals alike to illustrate the concept of "why plants are fascinating".
In Lithuania, Kaunas Botanical Garden are co-ordinating a range of events with local communities, schools, kinder-gardens and education projects, including a "Parade of Flowers" accompanied by singing and dancing from the Community of Seduva kinder garden, and "Ebru art" a VšĮ "MEDA PROJECT" – intergrating water, music and colours by painting on water using natural plant dyes.
In the USA, the Greater Los Angeles Zoo Association will be exploring the dynamic connections between animals and plants in the Zoo and in the wild, while Mesker Park Zoo & Botanic Garden has teamed up with local conservation partners to present Plant Conservation Day, showcasing the many positive and crucial roles plants play in the environment. One of the day's highlights is a "Sky Art" photo opportunity.
Across the globe in Yunnan, China, Xishuangbanna Tropical Botanical Garden are holding a free exhibition about transgenic (i.e genetically modified) plants and biodiversity conservation, featuring presentations from experts in the field of transgenesis. Information from the activities will then be shared via micro-blogging and on their popular science website.
Way down south in New Zealand, Auckland Botanic Gardens are holding a month-long exhibition entitled "King of the Forest" celebrating their native Kauri trees, but also teaching visitors about lethal "kauri dieback", a disease currently decimating the NZ Kauri population – a long-lived and culturally important conifer species.
Meanwhile, across the Pacific ocean in Chile, the University of Talca Botanical Garden have arranged workshops focusing on the importance of forests to climate change, discussing the effects of climate change on plants both locally and internationally, and encouraging students to represent, through drama, the importance of caring, appreciation and knowledge of plants.

Back in Europe the Jardín Botánico Atlántico in Gijón, Spain, are exploring the world of plant science and art by running workshops on botanical drawing, both by hand and digitally. FoPD 2013 coincides with the garden's 10th Anniversary and part of the First Conference of Painting and Nature. They will also be offering free tours to each of the four thematic areas of the Garden.
And finally, back in the UK, the University of Oxford Harcourt Aboretum invite visitors to "time travel with trees" to see how plants have evolved, create their own plant fossil, take a guided tour to hear some tree-inspired stories and meet scientists who will be showcasing important research areas. The University of Oxford Plant Sciences Department, Plant Life, RSPB, Bumblebee Conservation Trust, Berkshire, Buckinghamshire and Oxfordshire Wildlife Trust and the Amateur Entomologist's Society will also be on hand to get families and the public to take part in fun science activities.
There are hundreds more activities to be found not only in botanic gardens but at zoos, science centres, universities, schools, plant science institutions and more! Check out the FoPD website for more information and to browse a list of events across the globe using their handy interactive map.