Plant conservation strategy for the Caucasus published
19 August 2013
Missouri Botanical Garden's Centre for Conservation and Sustainable Development, in collaboration with BGCI has recently published a Regional Plant Conservation Strategy for the Caucasus region.
The Caucasus is a hotspot of plant and animal diversity and endemism. Located at a biological crossroads, species from Central and Northern Europe, Central Asia and the Middle East, and North Africa mingle with endemics found nowhere else. Over 6,500 species of vascular plants are found in the Caucasus. At least a quarter of the plants is found nowhere else on Earth – the highest level of endemism in the Temperate Zone of the Northern Hemisphere.
The Strategy was developed as a result of the project 'Coordination and Development of Plant Red List Assessments for the Caucasus Biodiversity Hotspot' which was implemented by the IUCN Species Survival Commission in collaboration with Missouri Botanical Garden, USA, the WWF Caucasus Programme Office, and botanists from six countries of the Caucasus (Armenia, Azerbaijan, Georgia, Iran, Russia, and Turkey) from 2006 to 2010.
The Caucasus Plant Red List Authority, which was established under the auspices of the IUCN Species Survival Commission within the framework of this project has developed the present Caucasus Plant Initiative: a regional Plant Conservation Strategy, the targets of which correspond to the targets of the Global Strategy for Plant Conservation (GSPC) 2011-2020.
The document illustrates the relevance of CPI targets to the targets/actions in the revised and updated Ecoregion Conservation Plan (ECP) for the Caucasus and whenever possible, the CPI should be considered together with ECP in plant conservation and sustainable use planning.
According to the 10th Meeting of the Conference of Parties of the UN Convention on Biological Diversity (CBD) held in Japan, the member countries are requested to revise their existing National Biodiversity Strategies and Action Plans (NBSAPs) according to the "CBD Strategic Plan for Biodiversity 2011 -2020". The statements of The Caucasus Plant Initiative are intended to be incorporated into the National Biodiversity Strategies and Action Plans (NBSAPs) of the Caucasus countries.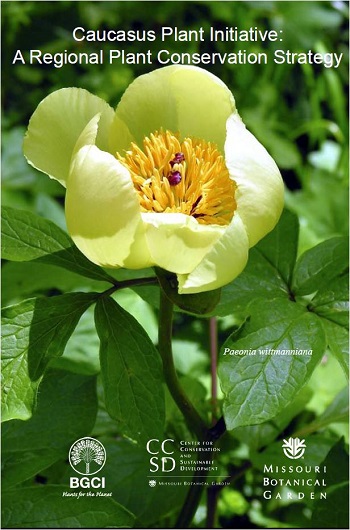 Download a copy of the strategy here.