The IPSN EUPRESCO Partners 'Kick-Off' Meeting
18 December 2013
The International Plant Sentinel Network (IPSN) held its first EUPHRSECO partners meeting at the Royal Botanic Gardens Kew, 3rd-4th December 2013. Participants included representatives from Germany's Julius Kühn Institut, Italy's Department for Innovation in Biological, Agro-Food and Forest Systems, University of Tuscia; the UK's Department for Environment, Food and Rural Affairs (DEFRA), Food and Environmental Research Agency (FERA) and Forest Research; Botanic Gardens Conservation International (BGCI); CABI and the Royal Botanic Gardens Kew. The meeting provided partners with an opportunity to discuss priority actions as well as decide next steps.
A summary of these steps is given below:
Produce criteria for making priority host lists that can be used to identify plant species for sentinel research studies;
Establish links with botanic gardens and arboreta who are interested in becoming part of the network and investigate opportunities for monitoring pests and diseases on plants already in existence in living collections;
Determine scope for planting sentinel plants in botanic gardens and arboreta that have similar climatic surroundings to the plant's native region;
Create a network of scientists with plant pest and disease diagnostic capabilities able to cultivate and survey these planted sentinel plants;
Create an International Coordination Group which will include representatives from around the world who have an interest in the IPSN;
Seek good examples of existing standard protocols and training materials that can help enhance pest and disease understanding, awareness and identification within contributing botanic gardens and arboreta;
Develop the IPSN webpage and investigate the opportunities for collaboration between databases such as BGCI's PlantSearch and GardenSearch, CABI compendia and the Netherlands' QBank.

The IPSN is a three-year European-funded project which aims to enhance activities that provide early warning of new and emerging plant pests and diseases by linking botanic gardens and arboreta with National Plant Protection Organisations and plant health scientists. For more information please click here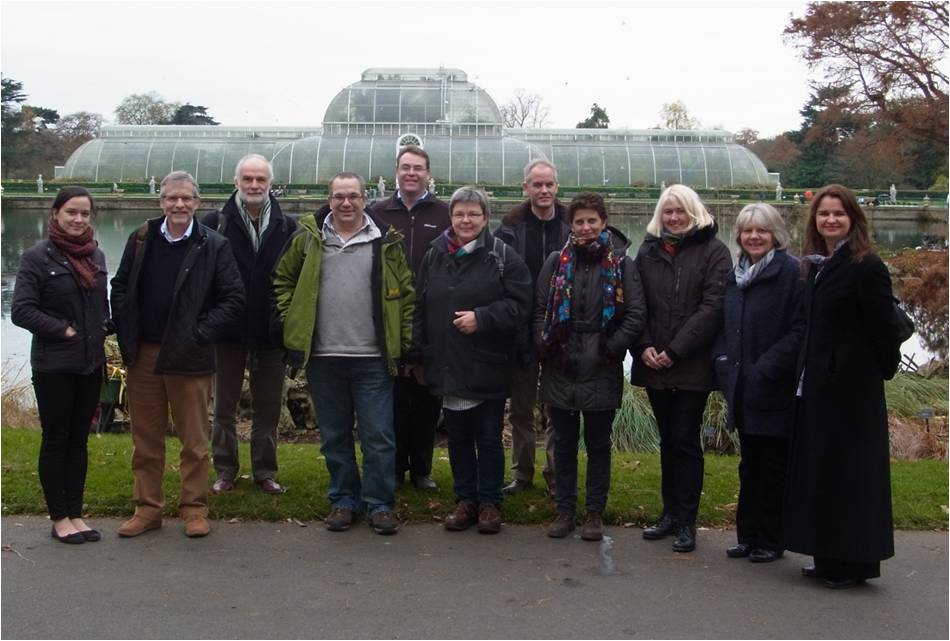 Clockwise from left: Ellie Barham (BGCI), Hugh Evans (Forest Research), Richard Baker (FERA), Adrian Fox (FERA), Charles Lane (FERA), Sara Redstone (RBG Kew), Gareth Richards (CABI), Anna Maria Vettraino (DIBAF), Gritta Schrader (JKI), Suzanne Sharrock (BGCI) and Lisa Smith (DEFRA)