Plant conservation leader from Cuba wins 2014 Whitley Award
19 May 2014
BGCI is very pleased to announce that our partner in Cuba has won the prestigious 2014 Whitley Award. Dr. Luis Roberto Gonzalez Torres, a BGCI ambassador, is leading the winning project entitled "Planta!" which engages Cubans in building a national movement to protect their Island's unique plant life.
Luis Torres is one of eight individuals to have been awarded a share of prize funding by the Whitley Fund for Nature, donated by The William Brake Charitable Trust. Luis Torres is Head of Conservation at the Cuban Botanical Society and coordinator and founder of "Planta!" a campaign set up in 2012 to inspire Cubans to conserve their native plant heritage.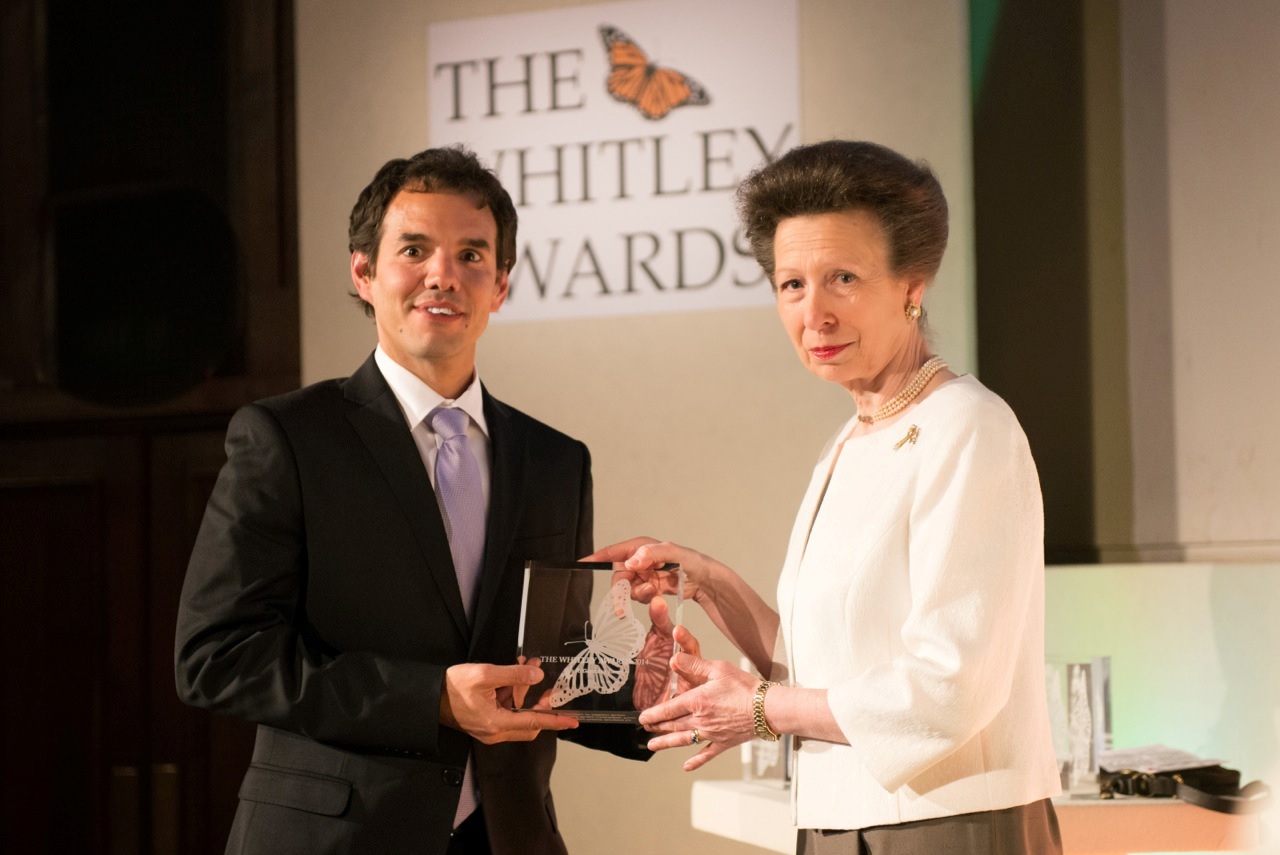 Dr. Luis Roberto Gonzalez Torres receiving the Whitley Award 2014 from HRH Princess Anne
Cuba is recognised as one of the four richest island floras in the world. Cuba supports 7,500 species of flowering plants, which represents more than half of all Caribbean flora. 53% of Cuba's flora is endemic to the country.

Cubans use about 520 native plant species for edible food, beverages, culinary spices and medicine, as well as for contruction and firewood. The survival of these important plant species depends upon encouraging Cubans to take pride in their native flora, by building their knowledge, understanding and commitment to the conservation of Cuba's native plants and habitats.

The Planta! initiative has national coverage. Coordinated from Havana, the project officers are located in towns and rural communities across the country. The project has three main aims;

To address the lack of awareness about the importance, value and perilous situation of the country's outstanding flora
To address the lack of skills of conservation practitioners at local levels to lead effective and sustainable conservation initiatives, and
To connect Cuban conservationists to each other and to international experts to facilitate the exchange of resources, knowledge and experiences.
Planta! will promote the conservation and sustainable management of Cuban plants by developing a national media campaign to inspire Cuban people's pride in their plants and a commitment to their conservation using the media (TV, radio, newspaper, magazines), exhibitions, and printed materials.
The project will also provide local community leaders with basic skills for plant conservation by running four training courses to design, carry out and maintain conservation projects. The project will also set up a Cuban Plant Conservation Alliance to facilitate networking and resource sharing.

Planta! arose from the experience gained through previous conservation projects, including a Global Trees Campaign project led by Luis Torres, to safeguard threatened Cuban Magnolia species from extinction by initiating propagation and restoration projects, led by coffee farmers. Read more about this project here.

Huge congratulations from BGCI to Luis and his team!

"Whitley Award winners are successful because they don't just watch and measure – they act! They are the conservation experts – not us – they know what to do and, more importantly, how to get it done." – Sir David Attenborough, a Trustee of the Whitley Fund for Nature.
| | |
| --- | --- |
| | |
| Casearia crassinervis. Endemic to Cuba. Vulnerable. | Cylindropuntia hystrix. Endemic to Cuba. Critically Endangered. |