10,487 plant species threatened with extinction
12 June 2014
Today the IUCN Red List released its most up-to-date list of species with a conservation status. It now lists 19,374 plant species and of these 10,487 (54%) are threatened with extinction.
Today's Red List includes the majority (146) of the Magnolia species from the publication The Red List of the Magnoliaceae, which have been updated with new information by BGCI and partners. Despite being popular in cultivation, many of the wild magnolias are threatened with extinction in the wild.
Many of the species of Magnolia are included on the IUCN Red List for the first time, including the Endangered agnolia jardinensis. Other species have now been assessed for the second (or even third) time, and changes in conservation status can be detected. For example Magnolia grandis has gone from being Endangered to Critically Endangered due to recent declines in its natural habitat. It means that M. grandis is now facing extremely high risk of becoming extinct in the near future.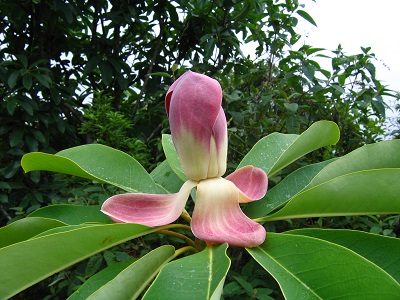 Magnolia grandis
Although over 19,000 plants are now listed on the IUCN Red List, this represents only 6% of the world flora. More work still needs to be done as the majority of plants have still not had their conservation status evaluated. Therefore red listing of plants needs to be carried out with urgency.
BGCI and the Global Trees Campaign have several new Red List projects underway, including red listing of: Betulaceae, Theaceae (incl. Camellia), timbers (with Bournemouth University), selected fruit trees (with University of Birmingham) and Trees of the montane forest of the Andes (with Bournemouth University).
Our long-term vision is to have a conservation assessment for all of the world's tree species by 2020. For more information please contact Malin Rivers (malin.rivers@bgci.org).