Restoring a 'holy hill' near Mangyangguang village, Xishuangbanna
8 August 2014
BGCI China is collaborating with Xishuangbanna Tropical Botanical Garden to restore a 'holy hill' near Mangyangguang village. Much of the original forest area has been converted to rubber plantations. We are currently in the second year of this project. Good progress is being made and the project is receiving enthusiasm and support from local communities, schools and government. This article provides a summary of the project and progress so far.

Dai Holy Hill Forest is a small remnant of tropical seasonal forest near Mangyangguang village in Xishuangbanna (21o35', 100o41'E). It was part of a larger forest area until the 1950s and although the remnant is considered to be a 'holy hill' by the local Dai people it has been gradually reduced in area until < 10 ha survives today. The surrounding area has been converted to rubber plantations. The forest has also been degraded by cutting of timber and other plants.
An ecological station for the study of tropical rainforest was established in 1958 and the first survey of forest structure and species compositions was made in 1959-60, followed by a series of subsequent surveys. This has enabled comparison of species composition now and prior to deforestation.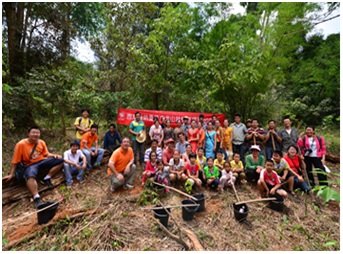 Recent surveys show that despite the loss of forest area, the overall species diversity has remained similar to that recorded in initial surveys, however there is a reported loss of many shade-tolerant primary forest species and the addition of pioneers and ruderal species, including several alien species. The structural changes since the first surveys are also dramatic, with the loss of most large trees creating many gaps in the canopy.
The fragment is now almost completely surrounded by rubber monocultures, but respect for its 'holy hill' status and its historical scientific importance has ensured that a core area remains more or less intact. Preliminary discussions with village leaders suggest that there would be strong local support for moving beyond preservation to restoration.
Led by Xishuangbanna Tropical Botanical Garden (XTBG), this project builds on more than 50 year's research and will make use of XTBG's extensive botanical knowledge and collections, historical records, experience in environmental education, and nursery expertise, as well as its local prestige and excellent community relationships. It will also take advantage of the recent interest by the Xishuangbanna government in improving the management of the existing Nature Reserves and protecting forest fragments outside them.
The overall aim of the project is to build public support for forest restoration by demonstrating the value of forest fragments and encouraging community participation in their protection and restoration. It focuses on two contrasting examples from the many forest fragments in Xishuangbanna, with the intention of demonstrating the potential to reverse the on-going decline in biological diversity. The model will subsequently be replicated, with local adjustments, at other forest fragments in the region.
Progress so far - The initial project phase involved survey and assessment of restoration needs. Surveys identified more natural regeneration than expected given the degraded state of the forest, but also severe invasion by the Neotropical herb Chromolaena odorata. Survey results and earlier species lists were used to develop a list of 67 tall tree species that will be the focus of propagation and restoration efforts. Liaison with local communities provided additional historical data for comparison, for example large vertebrates including elephants, tigers, primates and hornbills have likely been lost within living memory.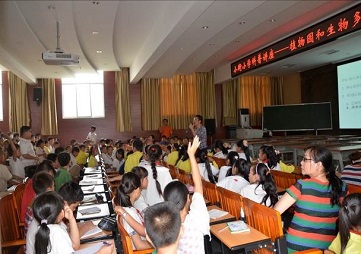 Working with local participants, a native tree nursery has been established, supported by XTBG staff. Regular seed collections from the remaining forest fragment supply propagation material for the nursery. This is supported by collections made from surrounding populations of species previously found in the forest that have now disappeared. Some initial reintroductions have taken place.

Although it is too early to assess reforestation success at Manyangguan, the project has been a massive educational success so far. Local schools have been involved in educational programmes, based on the findings of the survey. A number of schools are in the process of setting up native tree nurseries. designed by teachers and pupils, to support the project aims. A Nature Observation Club was established at a local school who have helped with clearance of invasive plants and tree planting.

The project has been highlighted in presentations to Government officials in Xishuangbanna and has been met with a great deal of interest.
To find out more about this project please contact Xiangying Wen.
Click here to find out more about Xishuangbanna Tropical Botanical Garden.