IPSN Plant Pest Monitoring & Prevention Workshop
13 March 2015
A two day workshop on Plant Pest Monitoring and Prevention was held at the Huntington Library, Art Collections and Botanical Gardens from 3rd – 4th March 2015 in collaboration with BGCI and the IPSN. The main focus of the workshop was to look at two insects that have become prominent pests in the California area, and which pose potential threats to other country's flora around the world; including Mexico, elsewhere in the USA and Europe. These pests are the polyphagous shot hole borer (PSHB), Euwallacea spp., and the gold spotted oak borer (GSOB), Agrilus auroguttatus. For more information on these pests please see below.
Huntington Botanical Gardens have been instrumental in investigating the PSHB, working closely with local plant health institutes. On day one of the workshop Tim Thibault from the gardens gave a tour showing the symptoms of PSHB. Alongside this Richard Stouthamer and Akif Eskale from the University of California – Riverside (UCR) gave presentations on the PSHB complex and the pathogenic fungus (Fusarium euwallaceae) associated with PSHB that causes dieback and mortality in host trees.

On the second day the workshop participants travelled to Irvine Ranch Conservancy site, Orange County where they met Tom Coleman from the U.S. Forest Service. Attendees were taken into the field and shown GSOB damage in the local area, including the tell-tale signs of infestation on trees.
Attendees included staff from several Mexican Botanic Gardens (including Jardín Botánico de Vallarta, Jardín Botánico Todos Santos, Jardín Botánico y Herbario - Universidad Autónoma de Baja California, Jardín Botánico Benjamin, Jardin Botanico Culiacan), a number of professionals working within Mexico who concentrate on native flora and/or plant pests, as well as representatives from Huntington Botanical Gardens and other gardens in the local area. Apart from being a great opportunity to learn about two new and emerging pests, it also offered participants, trainers and organisers alike a chance to meet, chat and learn from each other.
Special thanks go to Tim Thibault, Jim Folsom and other staff at Huntington Botanical Gardens as well as Abby Hird from BGCI-US. Thanks also go to all of the speakers and contributors to the meeting; Tom Coleman from the USDA Forest Service, Richard Stouthamer and Akif Eskalen from the University of California – Riverside (UCR), Chris Malumphy from the UK's Fera and Scott LaFleur from the Sherman Library and Gardens who represented APGA's Sentinel Plant Network.
This workshop was funded by the UK's DEFRA Horizon Scanning and Technology Implementation grant.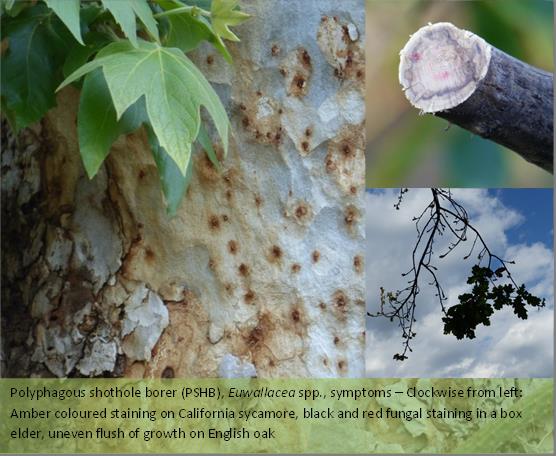 The PSHB is actually part of a 'species complex' consisting of four species very similar in appearance (often referred to as cryptic species). The complex found in Los Angeles County, California is native to Vietnam and possibly southern China; it is thought to have been introduced with dunnage. As indicated by its name, it has a large host range and has been recorded on over 300 trees and shrubs (though it does not breed on all of these). It can produce up to 8 generations a year, meaning that population sizes can explode in a very narrow period of time. It has been estimated that PSHB will cause dieback and/or kill 25% of urban trees in the Los Angeles area, causing major environmental and economic damage.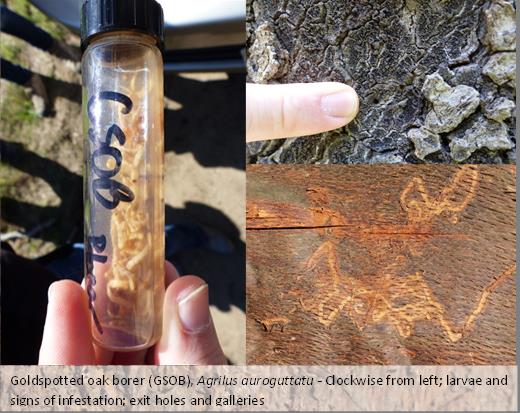 The GSOB is native to South-eastern Arizona but is behaving like an exotic invasive species in southern California. In some areas of California, up to 40% of native oaks have been killed and the beetle is continuing to spread. It is suspected to be moved over long distances in firewood and can take between 10 – 20 years to kill infested trees. Symptoms of GSOB infestation include twig die-back, crown thinning, black or red staining on the trunk and/or main branches and D-shaped emergence holes (3-4 mm). Currently, there are no effective ways to eradicate the beetle but there is ongoing research into management, including chemical, biological and cultural control methods.
Read more about the GSOB from the USDA-Forest Service