Science and Conservation Summary released by The Morton Arboretum
3 April 2015
by Catherine Bechtoldt, Science and Conservation Project Coordinator at The Morton Arboretum

As a public garden, we often need a way to explain the science and conservation activities being undertaken by staff and collaborators at The Morton Arboretum, especially to staff in other departments, trustees, potential collaborators, and the public.
The Morton Arboretum's Science and Conservation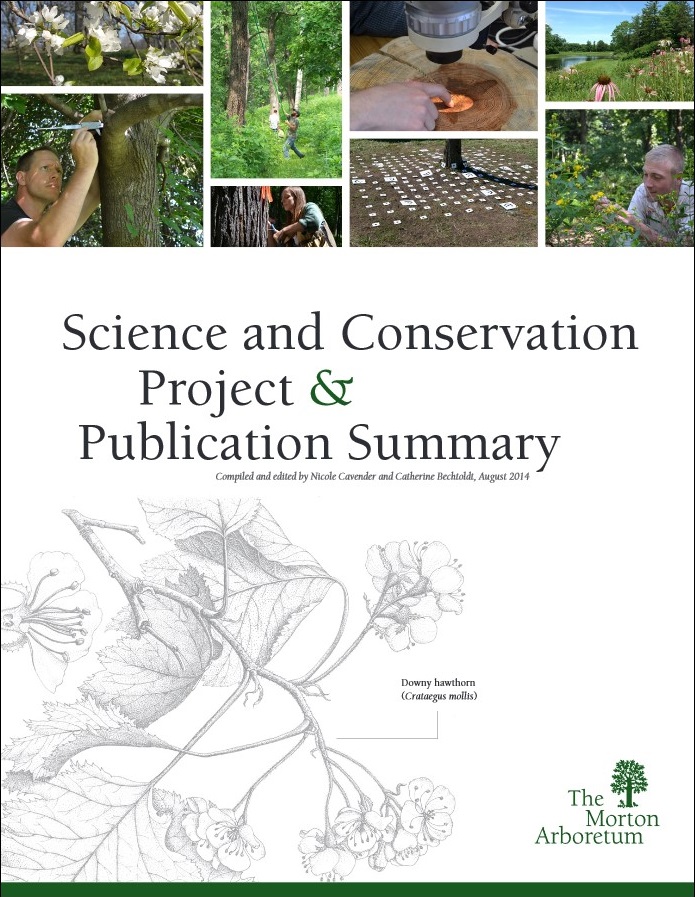 Project and Publication Summary briefly introduces all ongoing scientific research and conservation activities at the Arboretum. The Summary begins with a description of the general areas of research at the Arboretum and the ways new knowledge is shared and applied to practical problems facing trees in urban areas and in the wild. A brief history of scientific research and conservation at the Arboretum explains how current endeavors build upon past achievements and continue to carry out the Arboretum's original mission. The next section describes the new Center for Tree Science and the first collaborative research projects being undertaken by the Center. The rest of the Summary is broken down by program area. In each of these sections a brief description of the current projects is given with the names of the lead staff members and collaborators involved, followed by a list of publications that have emerged from this program area over the past ten years. The last sections list the Arboretum staff and collaborators from all over the world who contribute to the active research and conservation programs at the Arboretum. This publication allows different audiences to understand the Arboretum's scientific and conservation goals and the current work going on to achieve these goals.
View the full science and conservation summary here.