Shanghai International Flower Show
7 April 2015
Shanghai International Flower Show (March 27th-May 31st) was officially opened on 27th March 2015 at Shanghai Botanical Garden. The show is hosted by the organization committee of 2015 Shanghai International Flower Show and supported by BGCI. On behalf of BGCI, Xiangying Wen was invited to attend. Following the open ceremony, a horticulture academic summit forum was held to provide an opportunity for further communication and collaboration among participants.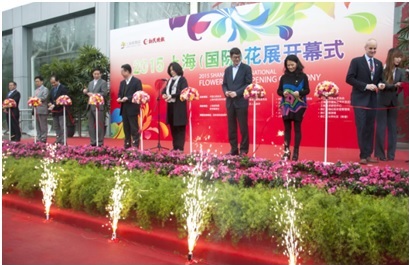 Cutting the ribbon at the opening ceremony
Guided by the theme of 'Delicate Horticulture, Beautiful Life', the show aims to improve city life by showing the latest innovation in horticulture products from domestic and international markets to disseminate the core value of maintaining a harmonious relationship between humans and nature.The whole show focuses on 4 sections covering a total area of around 40 ha, which includes displays of outdoor gardens, indoor ornamental plants, newly-bred plant cultivars and master pieces of horticultural work.
Find more information (only in Chinese)