New book - Pests in N. W. European Greenhouses - Jan Piet Kaas
21 August 2015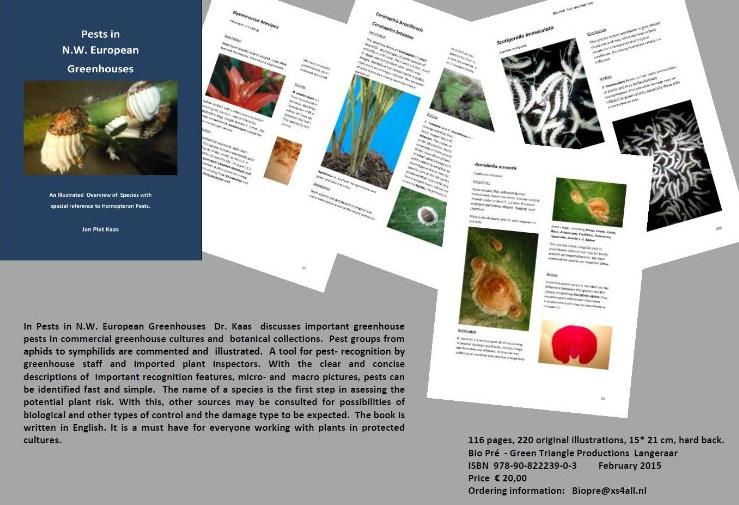 This slim, hardback A5 volume is a useful addition to the bookshelf of anyone working in glasshouses who wishes to identify the pests they encounter. The book includes images and information about some of the most commonly encountered plant pests, as well as a number of important quarantine species found in nursery and display glasshouses in Northern Europe.
Guides to each of the main pest groups covered by the book (thrips, mites, whitefly, cockroaches, etc) are helpful, though it would be of value to include a glossary and some simple annotated line drawings to illustrate the technical terms used.
Pest species each occupy a single page, with images and a brief description and an overview of their biology, distribution and damage. There is much to welcome in this concise volume, though it could benefit from more standardised formatting to improve the layout. Clear indication of the quarantine status of pests and more rigorous editing of text and images, some of which seem superfluous, would also be of benefit to readers
Data about interceptions on imports, observed host ranges, symptoms and taxonomic characteristics of pests, which can be searched for via an index based on pest scientific or common name or that of the host, are practical and user-friendly. Developing a resource of this type is no small undertaking and Jan Piet is to be congratulated on this publication. I look forward to reading the next edition.
Sara Redstone, Plant Health & Quarantine Officer, RBG Kew (18/8/2015)
To purchase please either go to www.tuinbouwscouten.nl or email Jan Piet directly