New report 'How Can Botanic Gardens Grow Their Social Role? Lessons from the Communities in Nature programme' now available online
3 November 2015
Read the evaluation of Communities in Nature. The report is based on the Five Year Review conducted by Dr Bernadette Lynch. The publication provides an overview of the five year programme, analysing its results, successes, impacts and short comings as well as offering suggestions for its future direction.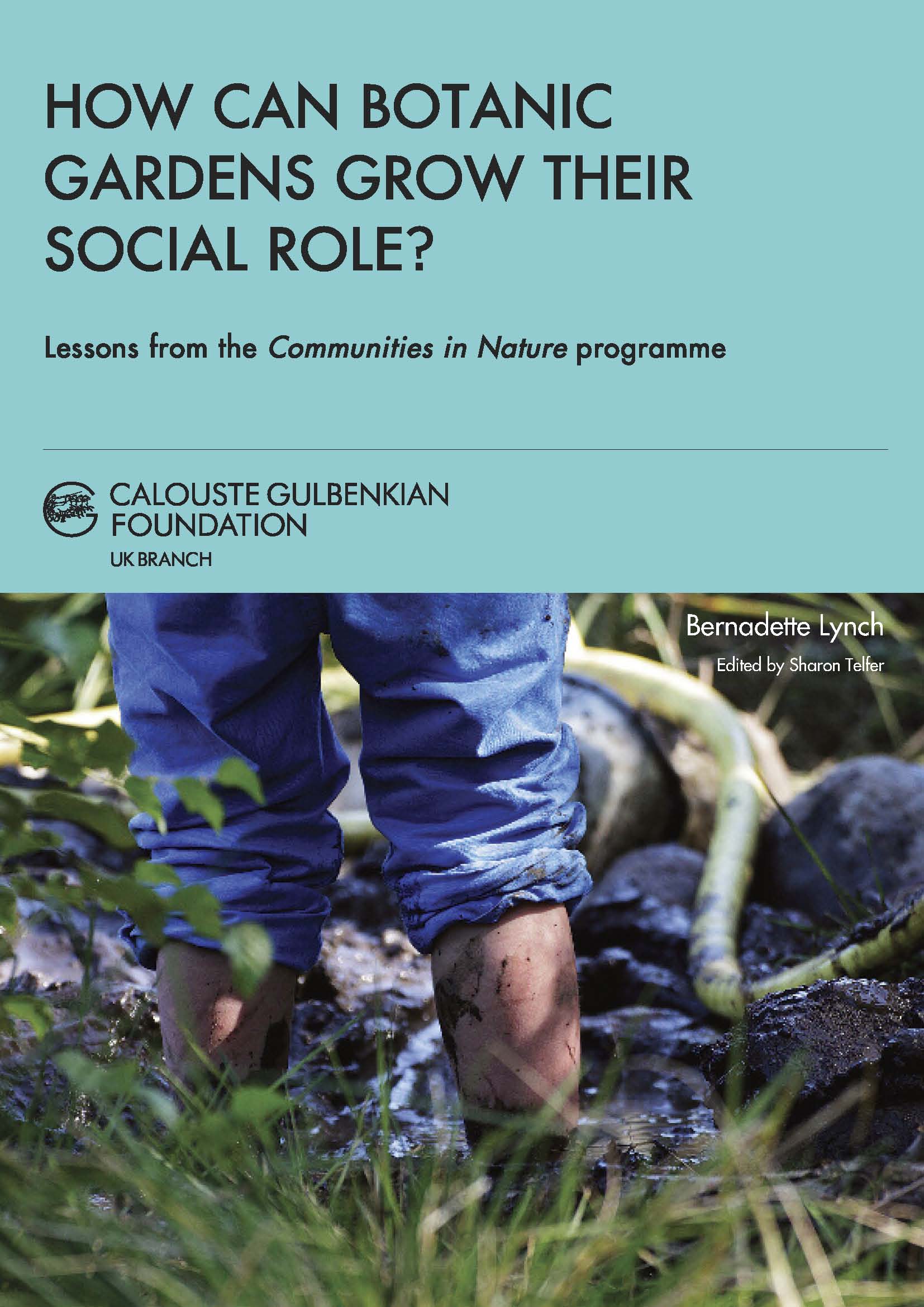 Communities in Nature has seen much success and there is evidence of a huge amount of support for its continuation.
"The programme was a breakthrough in providing test cases of social programmes of varying scope."(Lynch, 2015, p.8)
"Many staff members commented on the impact Communities in Nature had on their own practice. For some it marked a personal breakthrough." (Ibid. p.10)
Yet, the evaluation has shown there is considerable room for growing botanic gardens' social role further and strengthening the model globally.
"Staff participants interviewed called for a strengthened community of practice, led by gardens already strong in this area, with more dedicated conferences, seminars, training, mentoring, exchanges and placements related to the gardens social role." (Ibid. p.16)
"International respondents said they had been largely unaware of Communities in Nature and regretted not knowing more. Many were interested in the idea of an international community of practice on a scaled-up version of the programme." (Ibid. p.21)
Key areas for development related to: the need for further change in attitudes, especially in terms of management and senior botanic garden staff; the need for stronger communication and partnerships between and across gardens and the need for more training in this area. Another point emphasised in the report was a call for further guidance in developing and implementing community projects, particularly in relation to legacy, funding and management.
"There is a need for better communication not only between organisations but also between each organisation and its stakeholders and, crucially, within organisations." (Ibid. p.22)
"Lead gardens… could form a 'vanguard' group, from which other gardens take inspiration and learn new skills and strategies." (Ibid. p.24)
With these points in mind, looking towards the future there is a requirement for stronger management and leadership. BGCI has been identified to take up this challenge and intends to continue with the dissemination of structures and models along with supporting a global community of practice.
"Many looked to BGCI to take the lead in addressing this lack of leadership. Some also felt there needs to be a wider discussion on the role of botanic gardens today." (Ibid. p.12)
Read the report to find out more.
Communities in Nature was a project created by BGCI and supported by the Calouste Gulbenkian Foundation, with the aim to encourage botanic gardens to work towards social goals in their surrounding communities. The programme targeted audiences that were not necessarily associated with botanic gardens such as disabled groups, people from disadvantaged backgrounds, adults facing substance dependence and other marginalised groups. Through Communities in Nature 7 projects were set up at botanic gardens around the UK, encompassing a range of activities and audiences. To complement the activities the programme has also compiled and produced a range of supportive resources to be used by other gardens. You can find more information and download all publications from the Communities in Nature portal.
References:
Lynch, B., 2015. How can Botanic Gardens Grow Their Social Role? Lessons from the Communities in Nature programme. London: Claouste Gulbenkian Foundation, UK Branch.