First Technical Training for Species with Extremely Small Populations Held in Yunnan Province
2 February 2016
Sponsored by the Forestry Department of Yunnan Province, and organized by Yunnan Academy of Forestry and Yunnan Green Environment development Foundation, the first technical training course for Species with Extremely Small Populations was held in Kunming on 3rd and 4th December 2015. Over 110 coordinators from some 73 project units, including local forestry administration, forest stations, nature reserves, etc., as well as relevant scientific research institutes, universities and conservationists were trained.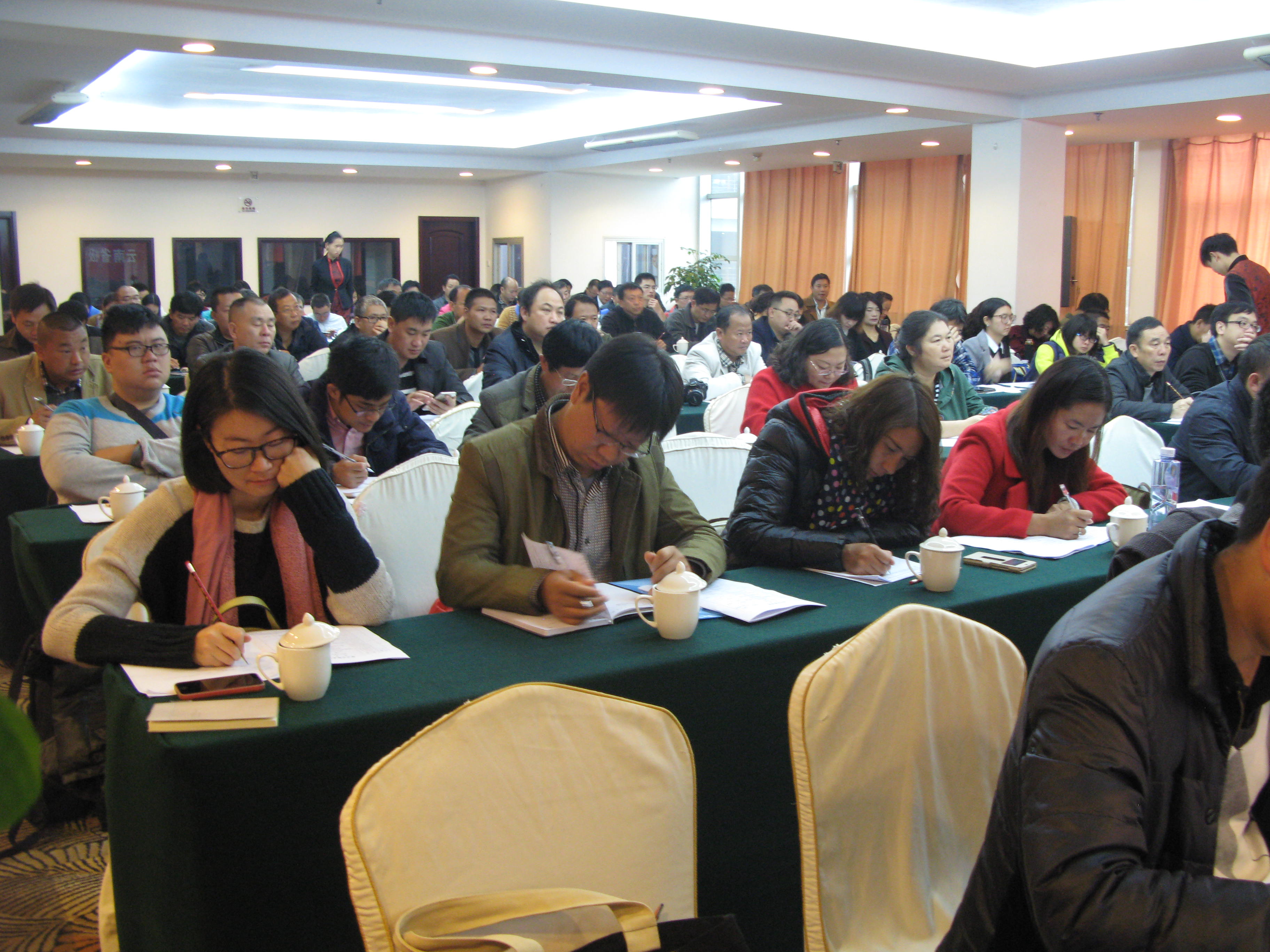 Training course participants
The topics of the training course included the methods and measures, case analysis, policies and project management as well as experiences exchange of implementing units for conserving Species with Extremely Small Populations. Several conservation experts from institutes and international organizations were invited to give lectures. Ms. Wen Xiangying, executive director of BGCI's China office, Prof. SUN Weibang and the director of Kunming Botanical Garden (CAS) were invited as two of several experts. In the open ceremony, director Li Chengsheng, Wildlife Conservation Office of Yunnan Forestry Bureau, acknowledged the contribution that BGCI has made to the conservation of threatened plants in Yunnan and expressed his hope to further strengthen the cooperation with BGCI in the future. He also acknowledged the contributions that Kunming Institute of Botany (CAS), especially Prof. Sun Weibang and his team have made for the conservation of threatened plants in Yunnan province.
Xiangying Wen's lecture focused on the 'Specifications for Wild Plant Ex Situ Conservation and the Status of Global Botanic Garden Ex Situ Conservation', including policy background, methods, procedures of ex situ conservation, status of global botanic garden collections, as well as the important role BGCI has been playing for plant conservation, as the largest international botanic garden network and largest global network for plant diversity conversation. She also emphasized the conservation work BGCI has been supporting for the threatened plant species in Yunnan Province since the China office was established in 2007, and hoped to strengthen further cooperation and make more contributions to the conservation of threatened plants in Yunnan Province.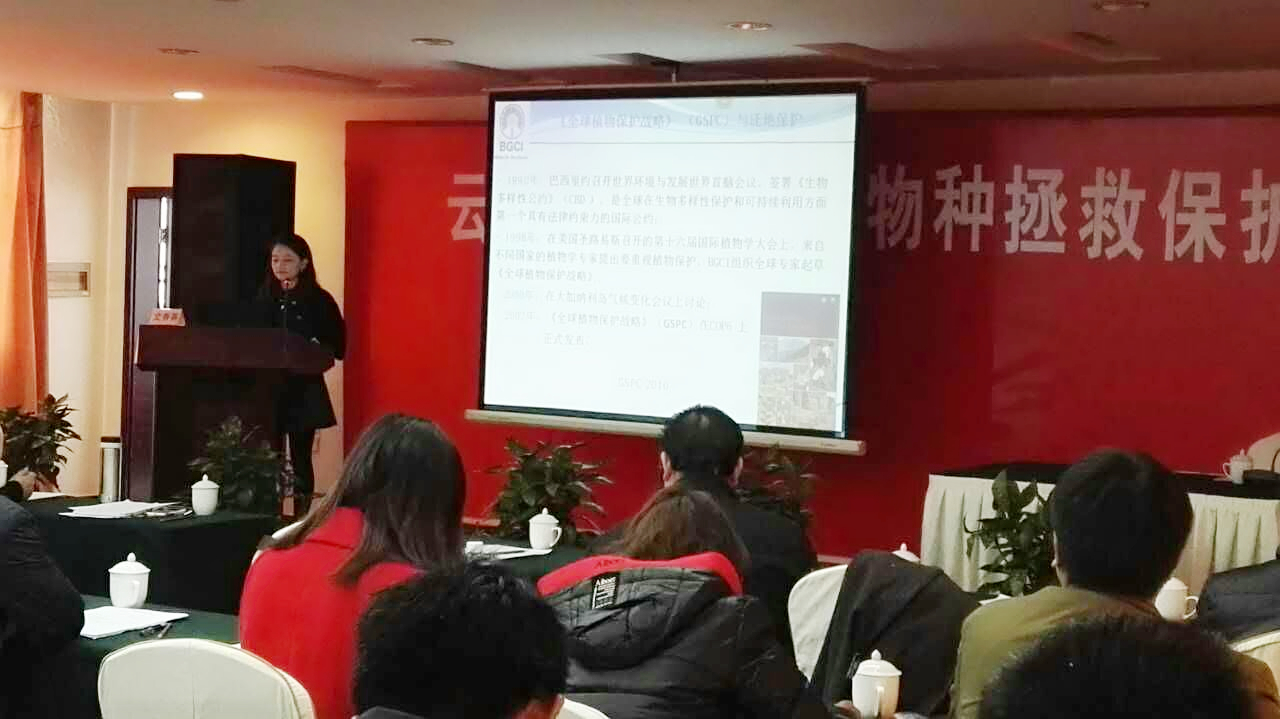 Xiangying's lecture
Species with Extremely Small Populations relate to populations with less than 5000 individuals. Species included 1) occur in a unique topography and habitat; 2) have a very limited distribution; and 3) face enormous pressure due to habitat destruction. The concept presents the most important action priority for plant conservation in China, and was first presented in 2005 by the provincial government of Yunnan and officially adopted by the State Forestry Administration of China (National level) in 2011.
In an initial stage, 120 Species with Extremely Small Populations have been identified as a conservation priority between 2011 and 2015, with 62 in Yunnan province. Several activities have been initiated. To date, some 107 projects are being implemented in the province, including 37 for wild animals and 70 for wild plants, through integrated conservation approach including in situ, ex situ and near situ conservation, and population reinforcement. Plant flagship species include Magnolia sinica, Poncirus polyandra, Paraisometrum mileense, Nyssa yunnanensis, Rhododendron protistum, Diploknema yunnanensis, Calycopteris floribunda, Craigia yunnanensis and Bretschneidera sinensis.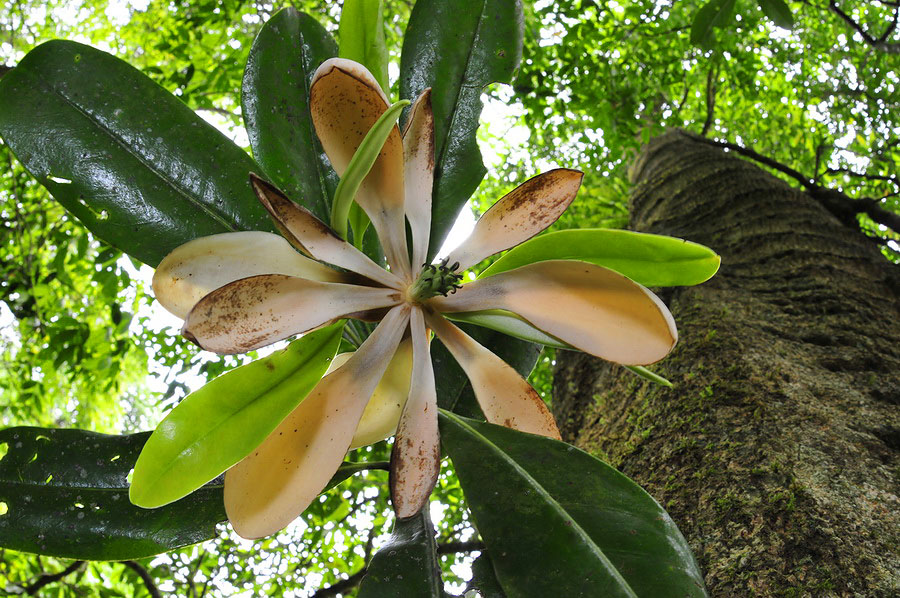 Magnolia sinica
This training course, held 10 years after the Species with Extremely Small Populations initiative was set up, has significant meaning. A long-term task, the conservation of PSESP in China provides an excellent example of the implementation of Global Strategy for Plant Conservation (GSPC) (2011-2020). With the outstanding achievements made in Yunnan in the conservation of PSESP, the efforts of the province to safeguard China's plant diversity serve as a model at the national level.