Building Capacity for Forest Restoration in East Africa
21 March 2016
On International Day of Forests, we celebrate the contribution of BGCI and botanic gardens to forest restoration.
Last week, BGCI ran a forest restoration training course at Brackenhurst Botanic Garden in Kenya. Attended by 25 participants from East African botanic gardens, NGOs and government representatives carrying out tree planting and forest restoration programmes, the course provided participants with practical skills and information to improve forest restoration and achieve long-standing results.
With trainers from Brackenhurst Botanic Garden, Multiplant International Medicinal Conservation, Kenya, the Royal Botanic Garden of Jordan, the Forest Restoration Research Unit in Chiang Mai, Thailand, and BGCI, participants learnt how to effectively plan forest restoration, carry out a rapid site assessment to determine appropriate restoration method, identify indigenous species to incorporate in restoration projects, propagate indigenous trees from seeds and cuttings, best practice for tree planting and how to monitor restoration plots.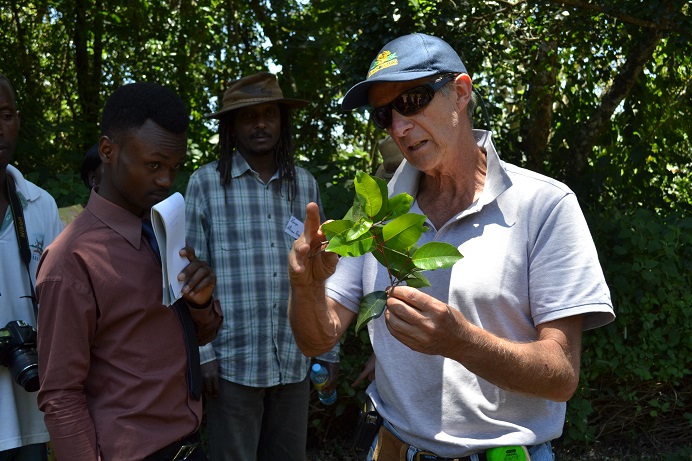 Mark Nicholson, Director of Brackenhurst Botanic Garden, leading a training session on species identification
Course sessions highlighted the importance of incorporating a wide mix of indigenous species to build resilient forests and provide conservation of the large number of forest species that are locally or globally threatened due to overexploitation for timber and medicine, or due to forest clearance.
The attendees were encouraged to apply the lessons learnt in their own projects, in an effort to improve success of current tree planting and forest restoration programmes, many of which have not achieved long-term results.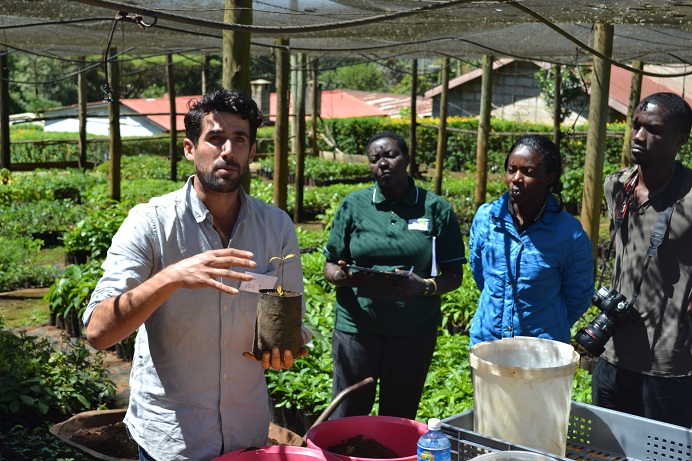 Ryan Guillou, Nursery Manager at the Royal Botanic Garden of Jordan, delivering training on propagation techniques
BGCI provides resources and information that can support conservation and forest restoration efforts in East Africa and worldwide, including:
Our recently published report Conserving the world's most threatened trees: a global survey of ex situ collections, which highlights tree species in greatest need of conservation action.
The Global Trees Campaign website, which provides resources and case studies to guide and inspire tree conservation efforts.
The Ecological Restoration Alliance of Botanic Gardens website, which provides case studies of restoration projects led by botanic gardens worldwide, including forest restoration projects carried out by Xishuangbanna Tropical Botanical Garden in China and Francisco Xavier Clavijero Botanic Garden in Mexico.
BGCI holds the Secretariat of the IUCN/SSC Global Tree Specialist Group, publishing tree Red List reports and conservation assessments on to the IUCN Red List of Threatened Species. We have recently signed an MOU with the East African Plant Red List Authority and will publish a Red List of East African Trees in the near future which will further help practitioners in the region to prioritise conservation efforts for species of greatest conservation concern.
The training course was held at Brackenhurst Botanic Garden, where a project has converted 40 hectares of Eucalyptus plantation and degraded land to indigenous forest over the past 16 years. The forest restoration plots of varying ages include around 1,500 species of East African plants, serve as an education and recreation site, and provided a good setting for training. The number of birds visiting the site has doubled since restoration began, Colobus monkeys have returned to the forest, and the valley stream now flows year-round, demonstrating some of the benefits that result from restoration. People from the neighbouring communities harvest soap spinach (Basella alba) and other indigenous vegetables that now grow naturally in the site to sell in Nairobi markets, highlighting the potential for livelihood improvement as a result of restoration as well.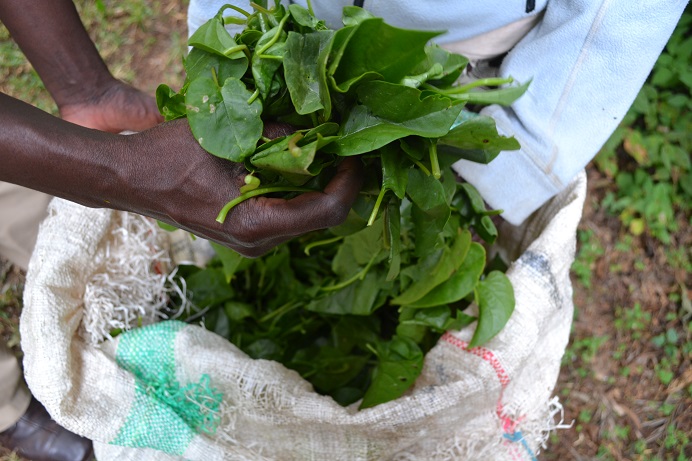 Basella alba harvested from the forest restoration plots at Brackenhurst Botanic Garden
Throughout the week, course participants shared experiences and advice from their own projects, including Tooro Botanical Garden in Western Uganda which is restoring Local Forest Reserves in collaboration with neighbouring communities, and African Forest, an indigenous tree nursery and manufacturer of Non Timber Forest Products from indigenous trees aiming to ensure forests provide a direct source of income to people, thereby promoting use of indigenous species in restoration and protection of existing forests.
Course participants developed a set of key messages for funders and policy makers, including "A monoculture plantation is not a forest" and "funders need to adjust their timescales for grants, provide enough time for results to be delivered and understand that a high percentage of restoration costs will go towards long-term labour and maintenance".
Dia Shannon from the Forest Restoration Research Unit in Chiang Mai, Thailand, delivering training on Rapid Site Assessment
The group resolved to continue to share results and experiences. To support this, BGCI will set up a mailing list and platform for sharing propagation information and restoration results, as well as fundraise for further training.
With growing populations and increasing pressure on resources, collaboration among restoration practitioners and ensuring practitioners are equipped with the skills and knowledge to restore for the long-term are essential measures for building sustainable forests.
"The course has been an eye opener. There is a lot to be done to restore our forests and I look forward to working with different individuals to realize this." – Brenda Monchari, Nairobi Botanic Garden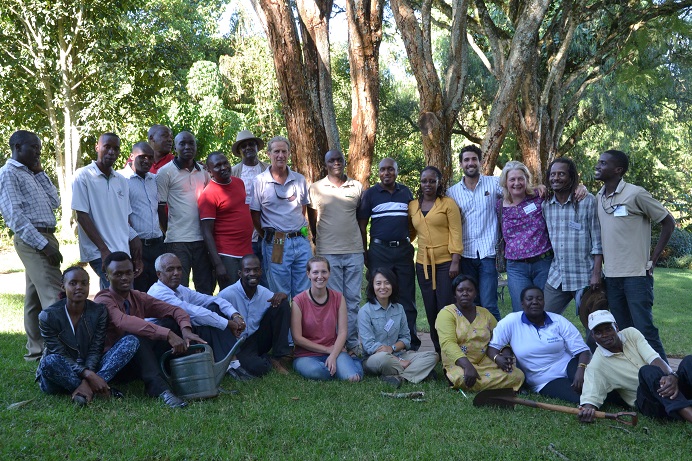 Training course participants
This training course was part of BGCI's programme Enhancing Tree Conservation and Forest Restoration in Africa. Find out more here. BGCI gratefully aknowledges the support of the Japan Biodiversity Fund in providing funding for this training course.
Find out more about the Ecological Restoration Alliance of Botanic Gardens here.