Thorny Challenge Clears the Way for Conservation
BELGIUM
19 October 2007
Two-thirds of the National Botanic Garden of Belgium's Cactaceae collection could be thrown away and there would be no implications for research or conservation. That was the stark conclusion experts gave after evaluating cacti at Meise this summer. The same is almost certainly true for many other plant collections held by botanic gardens world wide.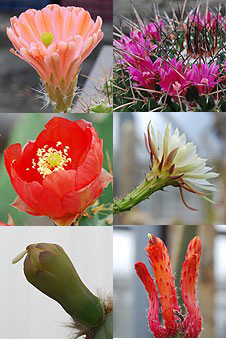 Some of Meise's colourful collection. Photo: Meise volunteers Renée Martens and Geertrui Cornelis
As botanic gardens respond to the urgent need for conservation, there is a growing realisation that aiming for accolades such as having a comprehensive collection is a misguided indulgence. There is a need to focus on the the species that need greatest support and to no longer carry large collections of plants that have little value for research or conservation. Staff at Meise recognised this and decided to take action.

Evaluation is the First Step
Once you accept that is necessary to concentrate on quality rather than quantity, in most a gardens a process of evaluation will be necessary. One group of plants requiring evaluation more than most is the family Cactaceae. Over the past two years, work led by Dr David Aplin at the National Botanic Garden of Belgium has undertaken this necessary task to determine whether their plants are 'fit for purpose'.
Dr Aplin, responsible for curation in the glasshouses said: "Our collection of 1700 kinds of Cactaceae represents around 10% of our indoor taxa, of which many are housed away from the public's gaze. I felt that there needed to be a good reason why these non-visited plants should be continually cultivated, because maintaining plants and heating glasshouses is costly in resources and on the environment".
The majority of cacti species are relatively easy to grow, long lived, suitable to pot culture and straightforward to propagate. However, this can often mean that collections are overlooked for considerable periods.
Assessing a Forgotten Collection
The first task undertaken at Meise was updating the plant names; in total over 1000 taxonomic changes were added to the database and new plant labels engraved and distributed. "In some ways it seems that the past classification of cacti could almost be described as an art as much as a science with many distinct forms given taxonomic distinction. Recent work, has unravelled many of the stable taxonomic characteristics from subtle variations, thus providing us with a better understanding of this family" said David Aplin.
Updating nomenclature was only part of the picture. As no general cacti specialists are resident at Meise it was important to invite specialists to provide an up-to-date and realistic picture of the collection's merits. David Hunt and Nigel Taylor from Kew accepted the challenge and at the end of their evaluation provided the honest, but blunt assessment of the collection.
"Two-thirds of the National Botanic Garden of Belgium's Cactaceae collection could be thrown away with no implications to research or conservation".
The main reasons for their conclusion were:
poor or no accession data for majority plants;
wrongly identified taxa duplicating correctly labelled species;
majority of taxa common & better documented in other gardens;
hybridisation;
no research or conservation activities conducted on collection in living memory.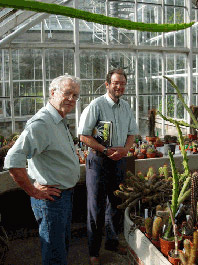 Cacti experts David Hunt (left) and Nigel Taylor. Photo: Denis Diagre, Meise Botanic Garden
Clearing the Way to Contribute to Conservation

David Aplin explained: "When I heard that two-thirds of the collection did not contribute to research or conservation I was asked if I felt depressed. Actually, the feelings were more of relief because for the first time we had an accurate picture of reality and can now concentrate space and time on our commitment to legitimate conservation.
An important factor to botanic gardens is whether they hold particular plants rarely represented in cultivation. "A few years ago this would be impossible to access. However, thanks to the BGCI PlantSearch database it is now possible to compare taxa with those grown by hundreds of gardens worldwide".
The valuable contribution of the database was highlighted by two cacti in collection at Meise, the golden barrel cactus Echinocactus grusonii, is represented in 112 uploaded collections, whereas Weberbauerocereus cuzcoensis appeared in just two, of which one was Meise.
"Evidently the considerable value of the database is immense and we should all be encouraged to upload our data to it and use it to evaluate our collections", highlighted Dr Aplin.
Rehoming Unwanted Specimens
During the next six months Meise will be de-accessioning many cacti and space re-designated for plants needing conservation priority. However, Meise's unwanted plants provide excellent specimens for education, so institutes interested in receiving plants for this purpose should make contact (david.aplin@br.fgov.be).
The process and detailed outcomes of the evaluation is currently being written-up for publication next year in order to help other collection managers make similar decisions. A great team of people are required for this venture and Dr Aplin would like to make particular thanks to Quentin Groom, Denis Diagre and Viviane Leyman for their contributions to the evaluation process and to volunteers, Renée Martens and Geertrui Cornelis, who meticulously made an invaluable photographic record of the collection aiding accurate identification. Also to our superb gardeners, Jan Van Den Eynde and Xavier Jospin for looking after the collections and being sympathetic to the evaluation process.