Geneva's Links With Community Medicine In Paraguay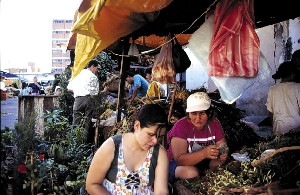 Geneva Botanic Gardens runs projects in several places overseas, including Paraguay. Credit: Conservatory and Botanic Gardens of Geneva

Since 1996 "Projet Etnobotanica Paraguaya" (EPY) has been run in the town of Asunción, Paraguay, to improve local standards of living through the use of plants, by the Conservatory and Botanic Gardens of Geneva, Switzerland in collaboration with Ascunción's Centre for Conservation and Environmental Education (CCEAM). In the first phase of EPY, the use of more than 400 species of plants sold in local markets was recorded and evaluated, and a medicinal plant garden was created in the Asunción Botanic Garden to hold specimens. The data collected included the toxicity, chemical composition and taxonomy of the medicinal plants (called "poha ñana" in the local guarani language).

This information was used to make booklets and videos, and then used in targeted education campaigns in 25 local rural communities, in collaboration with the Red Cross, to encourage appropriate use and protection of medicinal plants. The collaboration of the EPY and "Tesai Reka Paraguay" (a coalition of 12 country-based organisations working for community health in Eastern Paraguay) created project "Poha Ñana". This project used local workshops and the resources of Asuncion Botanic Garden to train and support more than 20 promotergardeners who created and maintained community medicinal gardens within their respective rural communities. Ongoing work is investigating the market potential for several herbs, and the best application of the plants for tackling specific local diseases, such as malaria and leishmaniosis.

Source: Gaona (2002), Pinazzo (2002).