Tree Conservation Resources
The Global Trees Campaign resources
Here you will find a wide range of resources available which have been produced by BGCI and FFI as part of the Global Trees Campaign. Resources include: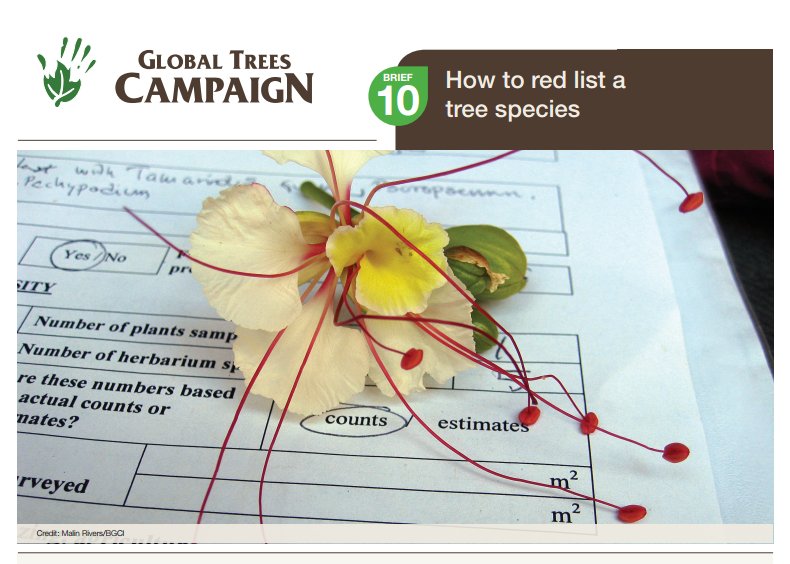 Ex situ surveys
Red Lists
Guidence for non-specialists
Reference manuals
Reports
Journal articles
Click here to visit the Global Trees Campaign website.
Threatened tree interpretation sign library

In collaboration with Global Trees Campaign (GTC) partners, BGCI has developed a sign library of threatened tree species. All signs are available freely available for download and can be printed on A4 paper (210x297 mm).
If your garden has used a sign or would like to add a threatened tree sign to the library - please get in touch!
| | | | |
| --- | --- | --- | --- |
| Scientific Name and Common Name | Lanuage | PDF | GTC partner |
| Albizia ferruginea (False Thorn Albizia) | English | Download | Tooro Botanical Gardens, Uganda |
| Aloe ballyi (Rat Aloe) | English | Download | Brackenhurst Botanic Garden, Kenya |
| Antrocaryon micraster | English | Download | Tooro Botanical Gardens, Uganda |
| Dialium excelsum | English | Download | Tooro Botanical Gardens, Uganda |
| Entandrophragma angolense (Budongo Mahogany) | English | Download | Tooro Botanical Gardens, Uganda |
| Entandrophragma cylindricum (Sapele) | English | Download | Tooro Botanical Gardens, Uganda |
| Euphorbia cussonioides | English | Download | Brackenhurst Botanic Garden, Kenya |
| Gigasiphon macrosiphon | English | Download | Brackenhurst Botanic Garden, Kenya |
| Hagenia abyssinica (African Redwood) | English | Download | Brackenhurst Botanic Garden, Kenya |
| Khaya anthotheca (Ugandan Mahogany) | English | Download | Tooro Botanical Gardens, Uganda |
| Lovoa trichilioides (African Walnut) | English | Download | Tooro Botanical Gardens, Uganda |
| Milicia excelsa (Mvule) | English | Download | Tooro Botanical Gardens, Uganda |
| Pistacia aethiopica | English | Download | Brackenhurst Botanic Garden, Kenya |
| Prunus africana (Red Stinkwood) | English | Download | Brackenhurst Botanic Garden, Kenya |
| Syzygium micklethwaitii ssp. micklethwaitii | English | Download | Brackenhurst Botanic Garden, Kenya |
| Warburgia ugandensis (East African Greenheart) | English | Download | Brackenhurst Botanic Garden, Kenya |
| Widdringtonia whytei (Mulanje Cedar) | English | Download | Mulanje Mountain Conservation Trust, Malawi |