Edible Caterpillars in the Bas Congo
Throughout Africa, whereever they are eaten, caterpillars are considered a luxury food, and they are opportunistically harvested by most people. As caterpillars are high in protein, they are also practically important: caterpillar meat has been estimated to contribute 40% of the total protein consumed in the Bas Congo, Democratic Republic of Congo. However, caterpillars are becoming scarce in some areas as bush fires become more frequent, and protective traditions are ignored (for example, when caterpillars were in tree branches too high to reach, it was traditional to leave them there, but increasingly the branches are cut down).
The Kisantu Botanic Garden in Bas Congo was involved in a rural development project run by the Salvation Army at Kasangulu, Bas Congo. One of the project's aims was to conserve and increase the number of edible caterpillars available to local people in several villages. The project researched the lifecycles of the caterpillars, the plants they feed on, and the best way to protect them. The National Botanic Garden of Belgium was also involved, and helped to prepare and store herbarium specimens of the caterpillars' food plants.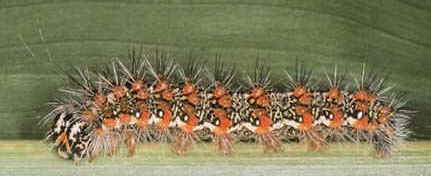 As a result of the project, several villages were able to safeguard access and improve access to the valuable caterpillar resources, whilst the caterpillar food plants were protected. A reference manual was published in the local dialect, which clearly illustrated both the edible caterpillars and their food plants, and how to conserve them. For example, appropriate food trees could be planted near houses. The project also encouraged respect for the traditions which had previously safeguarded the caterpillars. Other activities of the rural development project were found to complement the caterpillar work: for example, the keeping bees in the locality of the caterpillar plants was recommended to help to deter caterpillar over-harvest!
Sources: Gracia & Latham (2003), Latham (1999)
For more information about this project please visit these BGCI pages:
View the article by Paul Latham (1999) in BGCNews.
Visit the description of this project in the Cultivate E-bulletin