Hydrangeas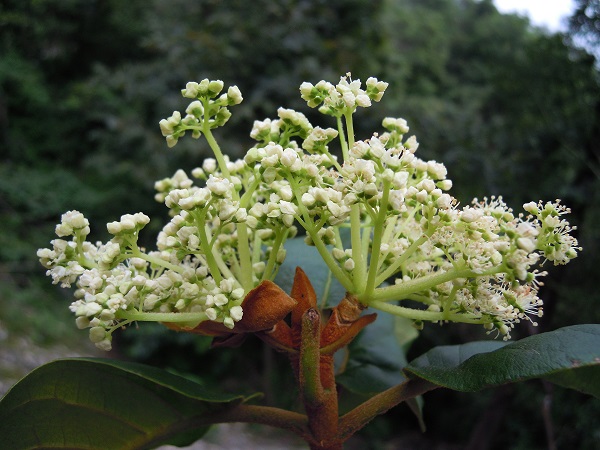 BGCI is working with the University of Ghent Botanical Garden (Belgium) and the Instituto de Ecología, A.C. (Mexico) on an exciting project to assess the conservation status of Hydrangea species and develop an action plan for conservation of priority species.
The genus Hydrangea Linnaeus has more than 1,000 cultivars and hybrids already since for centuries it has been a very popular ornamental plant group. These ornamentals with inflorescences with attractive marginal flowers are commonly known as hortensias, and descend from Asian shrubby species such as H. macrophylla and H. aspera.
Assessing the conservation status of Hydrangeas - Red Listing
BGCI is working with the University of Ghent Botanical Garden and the Instituto de Ecologia, A.C. to assess the conservation status of Hydrangea species. Conservation assessments will be submitted to the IUCN Red List of Threatened Species and a Red List publication will produced.

In the course of our ongoing work for this Red List and for specific projects on conservation, evolution and taxonomy of this genus, recent expeditions have been organized to the following countries: Chile, China, Costa Rica, Ecuador, Japan, Mexico, Peru, and Taiwan, covering a substantial part of its distribution area in tropical and subtropical areas.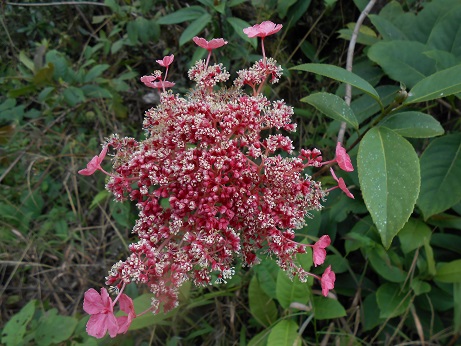 In the Neotropics, Hydrangea is represented by root-climbing species belonging to the section Cornidia. This section is poorly known from any point of view, be it taxonomical, biological or ecological, but current research at the involved institutes is yielding many interesting results. Field and herbarium observations show a yet unknown number of new, already threatened species of this group. For example, in Mexico, where our work is most advanced, we are currently describing 7 new species (2 were known before we started with our work).
Interestingly, most if not all species belong to the section Cornidia, are dioecious, a character which had not been noticed by most previous authors. The presence of this sexual dimorphism, the lack of insight in its ecology and evolution and the overall gap in knowledge about the biology of this group challenge our ongoing conservation work of these species in Mexico and other Latin American countries.

The most direct causes of the threatened status of the Neotropical Hydrangea species are deforestation and changes of land use to pastures and plantations of coffee or ornamentals such as Hydrangea macrophylla. Few localities occur in areas protected by law, such as National Parks. However, the most dramatic cause that might bring an unknown number of species to extinction in the near future is the current and future predicted climate change which is hypothesized to drive cloud forest species towards upward migration to higher elevations. As many Neotropical Hydrangea species are restricted to the higher or even highest elevations in cloud forest habitat, their future looks dramatic.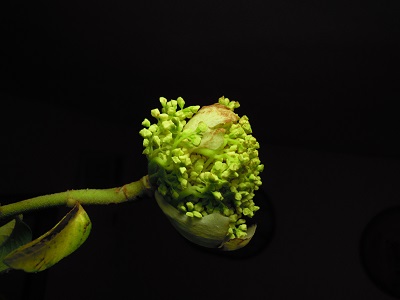 Many populations of Hydrangea in China, especially those at lower altitudes, seem to be in danger of being overrun by the development of roads and buildings. However, at these lower altitudes Hydrangea seems to thrive close to roads, which allow more sunlight into some of the denser woods, something which seems a necessity for flowering in these Hydrangea taxa. Higher up in the mountains the situation seems different. Populations are smaller and less dense for some taxa, while others remain somewhat abundant. Here the main threat seems to be tourism, as many of the higher mountains are holy places for Buddhism, with temples and hotels for visitors.


In Japan, the main issue seems to be introgression of cultivated plants into natural populations. Many parks and natural areas have been planted with cultivated forms of Hydrangea macrophylla, which sometimes makes it hard to distinguish between wild populations of this species and planted groups of plants.
Field work in Mexico since 2009 (supported by the Mohamed bin Zayed Species Conservation Fund)
When we started our research in cooperation with the National Herbarium of Mexico (UNAM), two species of climbing Hydrangeas were known to occur in Mexico: H. seemannii in the Sierra Madre Occidental and H. nebulicola in the states of Querétaro, Hidalgo and Veracruz. The majority of the specimens with conspicuous indument on their branches in South East Mexico and Central America had been identified as H. steyermarkii, but the characters of these collections do not coincide with the single type specimen of this species, neither with other individuals of this species growing in the type locality area on the Volcano Tacaná on the border of Mexico and Guatemala. Instead, they belong to a species new to science we are currently describing together with 6 other species from eastern and southern Mexico (see photos below), the majority of which we consider as Critically Endangered according to the IUCN Red List categories and criteria. Hydrangea nebulicola was listed as endangered in 1994 (NORMA Oficial Mexicana NOM-059-ECOL-1994) and as threatened with extinction by the Mexican authorities (NOM-059-SEMARNAT-2001 and NOM-059-SEMARNAT-2010).
The first paper from this project is now available online: First record of the Critically Endangered Hydrangea steyermarkii Standl. (Hydrangaceae) in Mexico, and new description of a new widespread Hydrangeae species of Mesoamerica. Marie-Stephanie Samain, Francisco Hernandez Najarro, Esteban Manuel Martinez Salas.
Field work in Peru since 2011 (2013 expedition supported by the Systematics Research Fund)
In Peru, Hydrangea is not only undercollected but also highly endangered because of its occurrence in hyper-conserved primary forests, which are becoming rarer every day, and require hiking in tough conditions to be reached. Our recent exploring field work in the Andes of northern and central Peru resulted in more specimens than had been collected in the whole country in the two centuries before. This included a yet undefined amount of new species which had never been noticed and collected before, and which are already at risk.

To find out more about this project please contact: Marie-Stéphanie Samain, Instituto de Ecología, A.C, Centro Regional del Bajío, Pátzcuaro, Michoacán, Mexico (mariestephanie.samain@gmail.com)