Rural Resource Management In Peru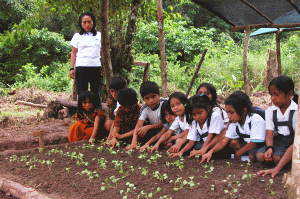 The whole community is getting involved.
Image © Missouri Botanical Garden

The Yanesha are an indigenous group of the headlands of the Amazon, in Selva Central, Peru. They suffer from extreme poverty and their efforts to meet their basic needs are degrading the forest. The Centre for Conservation and Sustainable Development (CSSD) at Missouri Botanical Garden is collaborating with three Yanesha communities, to help them to better understand and manage their natural resources, as well as improving their nutrition.

The project has established vegetable gardens where school children and teachers collaborate with the CSSD to experiment with vegetables that are not known to the Yanesha, and to promote the inclusion of more vegetables into the diet. They work before and after school to help cultivate the gardens. There is also an experimental fruit tree nursery run within the community, where trees not known to the area are introduced. When these trees are ready for transplant they are then planted in the small parcels of land that the local families have adjacent to their houses.

The CSSD conducts extensive environmental education programmes that not only encourage environmental appreciation but teach practical ways to sustainably manage natural resources, and to cultivate crops. It is also helping the Yanesha to form an Environmental Technical Unit that will help them manage their community lands and the threats to their reserve. The Yanesha and the CSSD work together to review the programme's activities and identify future needs. Future plans include helping the Yanesha develop sustainable production activities that will provide supplemental sources of income, and reduce harvesting of wild flora and fauna.