Education for Sustainable Development – Guidelines for Action in Botanic Gardens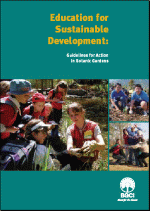 Education for Sustainable Development: Guidelines for Action in Botanic Gardens
Julia Willison, Head of Education, BGCI
While few would dispute the fact that the world is facing an environmental crisis, the last 25 years have seen a growing awareness of the complexity of the problems we face. Causal connections have however been established between economic growth and environmental degradation and the central role of education is now, more than ever, recognised.
Botanic gardens have always been important centres for environmental education and in recent years there has been a growing interest in education for sustainable development (ESD) amongst botanic garden educators. As a holistic process, ESD attempts to represent the complex and dynamic relationships between the natural and social sciences thus providing a means of addressing the environmental and development issues of the 21st century.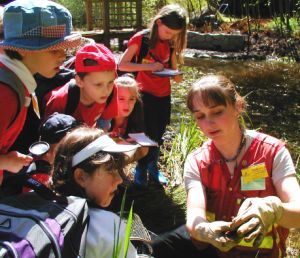 Kids get stuck in on the "Shoots with Roots" programme at Milner Botanic Garden
BGCI has produced these Guidelines to support botanic gardens in developing and implementing ESD strategies. The Guidelines provide a rationale for why botanic gardens need to be involved in ESD, highlighting the importance of botanic garden education in implementing sustainable development initiatives and offering a range of ideas for educational approaches.
Case studies are included throughout the guidelines, focusing on the excellent ESD work already going on in botanic gardens, while the final section focuses on the botanic garden as a model for sustainability, proposing a framework for conducting a green audit.

These guidelines are intended for use by those responsible for education in botanic gardens. They will also be of interest to:
Directors of botanic gardens
People with overall responsibility for botanic gardens – trustees, government policy makers and advisors, local authorities, university administrators
People who use the botanic garden for education – schools, colleges, universities, community groups, etc.
People working in site-based education centres – eg. national parks, biosphere eserves.
The guidelines lead educators through the process of developing an education for sustainable development strategy for their site. In particular, addressing issues such as; who should be involved, who is the audience, what the definition of sustainability is, the foundations of ESD, learning goals, educational approaches, using themes, resources and evaluation. The role of the botanic garden as a whole as a model for sustainablity is included, with details on conducting a green audit and implementing the priciples of sustainablity throughout garden policy and practice.
---
Recommended citation for this report:

Willison, J., 2006 Education for Sustainable Development: Guidelines for Action in Botanic Gardens, Botanic Gardens Conservation International, Richmond, UK
April 2006

ISBN: 1-905164-09-2

To order a hard-copy of the guidelines contact us.