Resources for Communicating about Climate Change
A number of organisations have published educational resources for teaching climate change. Using a range of resources helps students to understand different perspectives and arguments on the subject and to identify bias and conflicting evidence.
Action Aid has a range of resources that examine why and how changing weather patterns are disrupting the lives of communities around the world. Learners will discover what they can do at a local level to fight this global problem.

Children in a Changing Climate have produced an extensive audit of educational resources on different aspects of climate change, aimed at teaching key stage 3 curricula in the UK.

DCSF have created a carbon detective kit which looks at auditing the school building and school grounds.

Oxfam has produced a range of education resources for students and adults of a range of ages. They have a selection of climate change resources.

UNICEF has published a short booklet looking at the impact of climate change on children.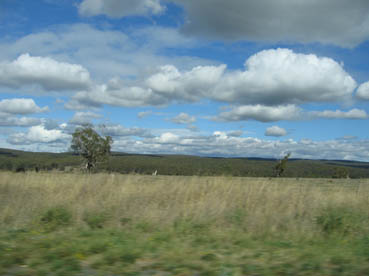 Australia has been suffering from extreme weather conditions, from drought to flooding, which may be attributable to climate change.
Photo: S.Kneebone
Roots 5:1, New horizons: tackling climate change (published April 2008) explores the issue of climate change and how gardens can build it into their public awareness and education programmes. There are many ideas and resources for investigating the issue with audiences and encouraging individuals to take responsibility for climate change and its solution.
UK Rivers Network - finding out about global warming and climate change
An extremely comprehensive set of web links and resources covering all aspects of climate change, from causes to impacts and solutions. Excellent range of sources that could provide the basis for an exhibition, presentations or education programme.
Friends of the Earth climate change resources
Mad about climate change – poster for 5 – 10 year olds and Shout about climate change – activity pack for 11- 13 year olds. Both free to download.
Contents of the activity pack include educators' notes with a list of useful resources, sections with information and activities investigating climate change: causes and effects, electricity: problems and solutions, heating: problems and solutions and transport: problems and solutions. The pack does have a UK focus but the activities are easily adaptable and the case studies are international. The poster is less specific, but provides a simple introduction to the issue and has an accompanying lesson plan.
Climate Program Office Resources (America)
The site has a good range of resources for teaching 'Climate Lieracy', primarily aimed at working with the American curriculum.

Française and English
The resources below have been recommended by Laurel McIvor, curator of interpretation at the Nova Scotia Museum of Natural History
Learning for a Sustainable Future
Excellent resources with specific age-related recommendations & background about developmental readiness. Check under theme "Weather, Climate & Climate change"
Basic description of problems & focus on solutions. Check the links at bottom of page, there is good information under "impacts" on forests & imperilled ecosystems.
This has a whole section on climate change with several interactive components, including a great 'Arctic ice melt' map, illustrating some of the impacts of climate change.
Spanish
The resource below hase been recommended by Orlik Gomez Garcia, head of education, Jardín Botánico Francisco Javier Clavijero, Mexico.
Centro de Información y Comunicación Ambiental de Norteamérica, A.C. (en español) (North American Centre for Environmental Information and Communication)
The Centre is a very complete resource about environmental themes, including climate change. Children and their families can find "10 tips para combatir el cambio climático" through a theme search.