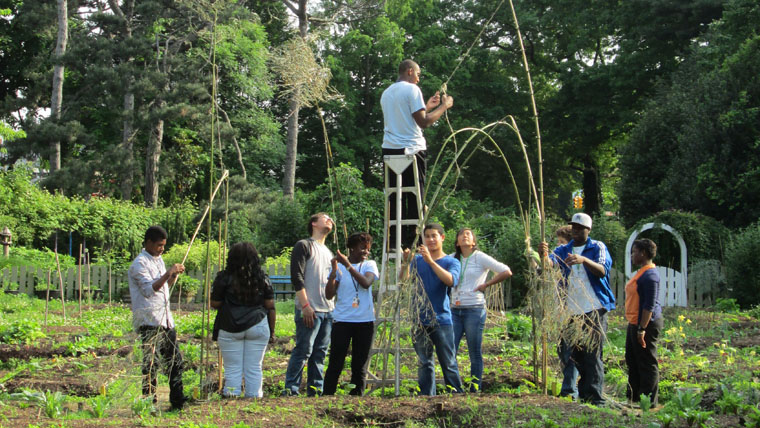 Communities in Nature Webinars
Held on the last Wednesday of the month from May to September, The Communities in Nature Webinars are an online training opportunity to help you grow the social role of your botanic garden. Aimed at professionals from across the botanic garden sector, the webinars bring the leading experts in the field to you, to offer help and personalised advice to support you to develop projects and programmes aimed at social justice.
Coming up next:
26th January, 2016, 4pm - 5:20pm (GMT)- Creative Evaluation Made Easy with Nicky Boyd
What happens next?
After the fifth and final webinar in January you will be able to watch videos of each webinar, you will also be able to find out how you can contact other attendees to have your own dicussions about the social role of botanic gardens.
Previous webinars:
31st August, 2016 - Sharon Willoughby and Nic Capp from Royal Botanic Gardens Victoria on fundraising for community projects
Sharon and Nic together gave us important insight into fundraising based on their year's of expirience in the area. As well as outlining the general approach to raising corporate and philanthropic money at Royal Botanic Gardens Victoria, there were cuationary tales and case studies related to where (and where not) to look for funding and how to maintain relationships.
Feedback from participants:
"I learnt to look at fundraising as an ongoing process and not a one time operation"
"I now appreciate the need to identify and develop long term relationships with donors. keep them informed of the project with interesting and challenging reports."
"I appreciate the conversation is the main thing and the [funding] idea can evolve from there."
27th July, 2016 - Jennifer Schwarz-Ballard from Chicago Botanic Garden on Embedding community work in your organisation

During this webinar Jennifer Schwarz-Ballard took us on a whistle-stop tour of the history of Chicago Botanic Garden's community work, some of their inspiring current projects, like Windy City Harvest and provided guidance on how to embed this type of activity in the work of a botanic garden.
Participants said:
"I really enjoyed the ability to interact with the presenter."
"I realized the positive things we are doing at our Garden that deal with the topic of social inclusion."
"I was surprised to find that the problems and opportunities are very different in each garden."
29th June, 2016 - Theano Moussouri from University College London on research and evaluation
This popular webinar was attended by botanic garden proffessionals from around the world, from Poland to The USA, Norway to Canada. The participants gathered to discuss new and exciting ways to carry out research and evaluation at botanic gardens.
The webinar inspired participants to implement what they learnt at their states. One told us that they were surpised by "How professional and thought-out you can design an exhibition (I don't think we've ever evaluated one of our exhibitions yet... a fact I would love to change after this webinar)". Whilst another said "I especially want to implement front-end evaluation in the design of exihibitions and programs, the participatory oriented methods were new to me and I'm already thinking how I could implement them in my work."
25th May, 2016 - Ian Edwards: Making your garden accessible
Proffessionals from around the world, including the UK, France, The Netherlands, Canada and the USA joined us for the first of the Communities in Nature Webinars.
During this webinar, Ian Edwards, Head of Public Engagement at Royal Botanic Garden Edinburgh discussed how they have broken down the barriers between them and some of their underrepresented audiences, these included mothers from disadvantaged areas, young adults or people with dementia.
This provided participants with an opportunity to gain practical advice to implement at their own garden. One participant commented:
I enjoyed hearing about some of the events that Ian highlighted. We are really trying to involve local neighborhoods and I liked the CakeFest idea, we will try to implement something like this. I also think we will try to do some something with a small focus group, possibly with Veterans (similar to the work that Ian was doing with people with dementia)