Islamic gardens in the UK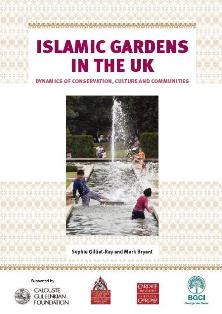 In the first ever study of its kind, a BGCI-commissioned report has highlighted the potential for botanic gardens to promote biodiversity conservation and ecological sustainability by actively engaging with and supporting faith-based gardening projects.
The findings of the report, based in part on interviews and surveys, were presented at BGCI's
4th Global Botanic Garden Congress
in Dublin in June 2010.
Download the report for free here (5MB)
"This is hugely significant and groundbreaking work,
" says BGCI Director of Education, Julia Willison, "
opening up the prospect of new and exciting opportunities for botanic gardens to engage with the communities they serve, reaching out especially to those social or faith-based groups who almost never visit botanic gardens."
Funded by the
Calouste Gulbenkian Foundation,
the Cardiff University study into Islamic Gardens in the UK set out to examine their potential for promoting biodiversity conservation and sustainability within the Muslim community, as well as fostering inter-faith understanding. While arguing that any efforts to engage successfully in this way would probably need to be channelled through Muslim grassroots organisations and networks, the report envisaged a key role for botanic gardens in working with such organisations on projects of this kind.
According to report authors Sophie Gilliat-Ray and Mark Bryant, of Cardiff's
Centre for the Study of Islam in the UK,
botanic gardens should also be encouraged to critically examine their visitor profiles, with a view to becoming more inclusive of faith communities. The fund of knowledge and expertise held by botanic garden staff would also prove invaluable in supporting and enabling faith-based gardening projects. BGCI is well placed, the report says, "
to help botanic gardens (to) develop a more outward-facing, collaborative orientation to faith-based community gardening initiatives."
The report's recognition of BGCI's strategic importance in helping botanic gardens become more accessible and engaging spaces for Muslim and other faith-based audiences is welcomed by Julia Willison, who says "
this is in line with our own thinking – and that of our partners at Calouste Gulbenkian who so generously funded this study – namely that the enhanced social role of botanic gardens, particularly in respect of their social inclusion initiatives, is vitally important if we are to deliver the sort of conservation and sustainability outcomes that are so urgently required."