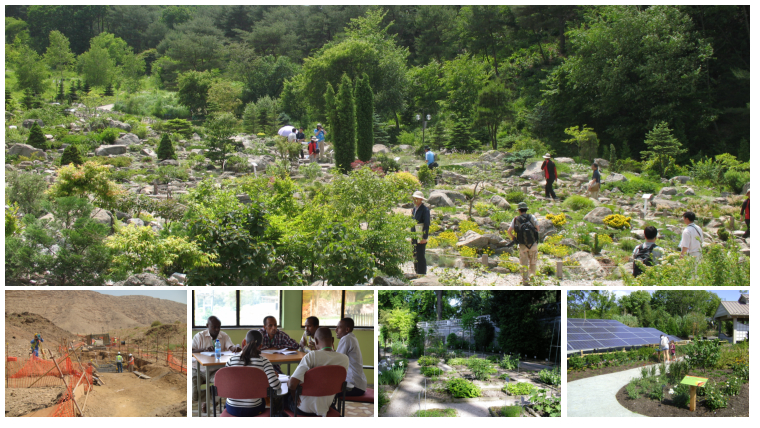 From Idea to Realisation - BGCI's Manual on Planning, Developing and Managing Botanic Gardens
Recognising the ever-increasing needs and requests for technical guidance on botanic garden development and management, BGCI has been working on the establishment of a new botanic garden manual since late 2013. Building on The Darwin Technical Manual for Botanic Gardens (Leadlay and Greene, 1998) developed at that time with the generous support by the Darwin Initiative - a major UK government biodiversity grants scheme - this new resource From Idea to Realisation – BGCI's Manual on Planning, Developing and Managing Botanic Gardens (2016) is a direct response to the growing importance, sophistication and complexity of the international botanic garden community over the last two decades. As key custodians of global plant diversity, this central role and endeavour of botanic gardens and arboreta is as pivotal as ever in times of rapid, worldwide change and unabated biodiversity loss.

This Manual is intended for botanic gardens and arboreta as ever-evolving institutions that respond to environmental and societal needs, changes and challenges. It is not meant to be prescriptive but to offer guidance and ideas with case studies from around the world. As a comprehensive resource, the guidance provided aims at newly developing institutions with limited experience as well as at established botanic gardens that may seek advice or information for instance as part of a re-development or an organisational review.

As this is a living document, feedback will be invaluable to ensure that the guidance and information provided meets its purpose and evolves over time to remain relevant to the botanic garden community.

Send your comments and suggestions to: Joachim Gratzfeld

Download the manual in full (above) or by chapters (below).
From Idea to Realisation - BGCI's Manual on Planning, Developing and Managing Botanic Gardens
Contents
Please note that in order to ensure that links between chapters work correctly, the individual chapter files should be downloaded and saved together in the same location.
Bibliographic Information, Acknowledgements and Contents
Part A: From Idea to Realisation – Bringing a Big Idea to Life
This section is primarily aimed at stakeholders who wish to create a new botanic garden or substantially modify an existing garden. It covers the process involved in transforming the idea of a botanic garden into reality with all of the planning, building and development in between.
Part B: Organisational and Operational Essentials
This section sets out the governance models, processes, human resources and financial mechanisms required to operate a botanic garden.
Part C: The Plant Collection – Linchpin of the Botanic Garden
This section discusses the plant collection that the botanic garden is built around. Topics include the development of a collection policy; collection record management systems; horticultural management; and uses of the collection.
Part D: Botanic Gardens as Models of Environmental Sustainability
This section sets out how botanic gardens around the world are addressing sustainability challenges such as energy, water and recycling.