A New Botanic Garden in Fez, Morocco
Volume 4 Number 1 - December 2003
Saad Benamar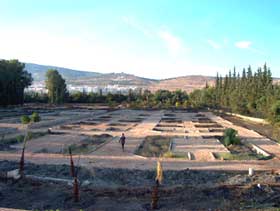 The Fez Botanic Garden (FBG) was officially established in April 2001 during an ordinary session of the Fez City Council. The Fez City Council is responsible for the FBG in cooperation (within the framework of partnership agreements) with the Fez-Boulemane Region, Sidi Mohamed Ben Abdellah University (Science Faculty), Fez High School (Ecole Normale Supérieure, Department of Biology), the Fez Regional Water and Forest Administration and the NGO, Fez Botanic Garden Association.
Fez is a city in the north of Morocco at an altitude of 262-378 m and characterized by an annual rainfall of 500 mm, an average summer temp of 21-27ºC (max: 44ºC), and an average winter temp of 11-13ºC (min: 0ºC). The land for the garden (15 ha), owned by the Fez City Council, is in the west of the city. On the south it is bordered by the bank of the river, Wad Fez and on the east by the road leading from the Meknes road to the industrial area of Dokkarat; this road separates FBG from a forest park which covers an area of 200 ha.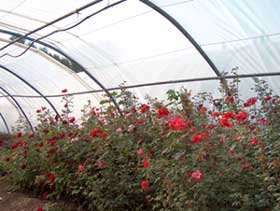 The main objectives of the garden are environmental education and the conservation of native and endangered plants of Morocco. It is a member of JBF (Jardins botaniques de France et des pays francophones - Botanic gardens of France and French-speaking countries).
The plan was drawn up by a landscape architect, after several consultations with the scientific and technical committee of representatives of the partnership institutions.
The garden area has been enclosed and the plan marked out on the ground. The first part of the garden (2.5 h) has been developed with walks, plantation plots and networks for irrigation and lighting. Finance is available and work will start in the near future on the development of another 1.5 ha and building and equipping the Environmental Education Centre.
Funding for this project has been made available by the Fez City Council, Council of Fez-Boulemane Region, Environmental Government Secretary and the Higher Education and Scientific Research Ministry.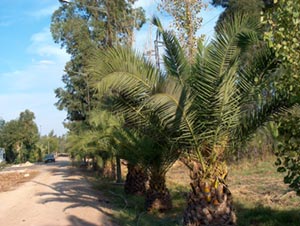 The garden will display thematic collections of Mediterranean and Moroccan indigenous and endemic plants, an arboretum, palmetum and oasis, plants from desert and semi-arid regions, succulent plants, medicinal and aromatic plants, food and industrial plants, an orchard, bamboo, ornamentals and a rose garden. The garden will include administrative buildings, a reception area, an area for environmental education, classroom laboratory, library, nursery, greenhouses, small theatre, café, kiosk, toilets and accommodation.


Saad Benamar
Laboratoire de Biologie et Physiologie Végétales et Forestières
Ecole Normale Supérieure de Fès
Bensouda 30000, Fez, Morocco
Tel: +212 (0)55 655084 Fax : +212 (0)55 655069
E-mail: saad.benamar@caramail.com