Designing and Installing Interpretive Signs - Helpful Hints
Number 7 - February 1993
Royal Tasmanian Gardens, Australia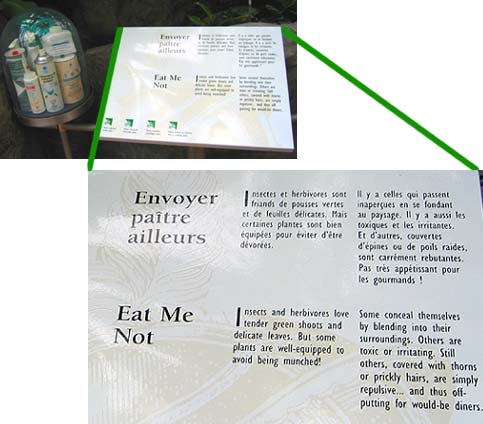 The interpretive display above, from the Montreal Botanical Gardens, is a nice example of sign design. It has a clear theme, a small amount of writing and is well laid-out. The accompanying cabinet of insect repellents brings a link back to peopel and makes the topic relevant to the reader. For hints and tips on how to produce a good sign, this article from the Royal Tasmanian Gardens in Australia is very helpful.
Ask yourself "Is this information useful, important, necessary? Is a sign the best way of presenting the message?"
Make the information concise and understandable. Avoid jargon and unnecessary scientific language.
Avoid flowery, elaborate typefaces.
Consider providing interpretive information in a common second language.
Use short blocks of text. Concentration spans are generally short in a new and exciting environment.
Relate new information to the knowledge and experience visitors already have.
Make signs visible but not intrusive in the garden environment.
Information overload is as bad as a lack of information.
Replace vandalised signs as soon as possible. Standard and condition of signs reflect on the garden's reputation.
Cater for people with disabilities by:
- using large, clear lettering
- making sure signs are easily accessible.
- making sure viewing areas are level.
- providing seating at signs where possible
- placing signs at a height suitable for those who use wheelchairs. This will also be suitable for children and quite acceptable for standing viewers.
Remember, the best response to an interpretative sign is 'Aha, I understand!' stimulating a desire to learn more.
Avoid the use of uppercase headings on an interpretive sign. Uppercase tends to SHOUT and should only be used on restriction and warning signs.
Visitors should leave the garden feeling the visit has increased their understanding, enriched their experiences, been enjoyable and worth repeating. The mood, content and presentation of interpretive signs will contribute to these impressions.