MAXIMIZE YOUR INSTITUTION'S MEMBERSHIP
How can you help maximize your institution's BGCI membership?
Take advantage of BGCI's diverse resources, networking opportunities, and targeted plant conservation action and policy efforts. Read below for more information.

WEB-BASED RESOURCES AND PUBLICATIONS

GLOBAL PLANT CONSERVATION ACTION INITIATIVES
Medicinal plants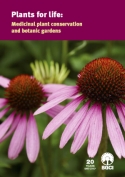 BGCI published Plants for life: Medicinal plant conservation and botanic gardens in January 2008, highlighting threatened medicinal plant species and what botanic gardens can and are doing to conserve them. Following this report, BGCI has launched a project to gather information on the 428 taxa identified as being of conservation concern. Here's how your institution can contribute:

BGCI is using its Plant Search database to identify which medicinal plants of concern are being maintained by botanic gardens around the world. Make your collections count in this assessment by uploading your plant collections records to Plant Search. (Click here for more information about Plant Search.)

Is your institution growing any of the 35 most threatened medicinal plants identified in the Plants for life report? If any of these species are among the records your institution has uploaded to Plant Search, BGCI will be contacting you in the coming months about a new project to document cultivation methods and best practice techniques for each of these 35 medicinal plant species. This information will ultimately be available through BGCI's website as a key resource for medicinal plant conservation efforts around the world.

Is your institution growing any of these 20 medicinal plants of concern? BGCI currently has NO RECORD OF BOTANIC GARDEN CULTIVATION for these species, so please check out this list and let us know if your institution is growing or has grown any of these species.
Plants and Climate Change
BGCI has been actively involved in work to address the impacts of climate change on plants, and we have documented our efforts and those of our members on our website (the effects of climate change on plants.), in a recent issue of BGjournal, and an upcoming issue of Roots. In 2008, this work reached a new level with the release of BGCI's latest report Plants and climate change: which future? (PDF 3.4MB), which was presented at the meeting of the Conference to the Parties of the Convention on Biological Diversity in Bonn, Germany. Look for more information on how your institution can benefit from and be involved in this initiative here.

GLOBAL PLANT CONSERVATION POLICY INITIATIVES
BGCI played a pivotal role in the development and implementation of the Global Strategy for Plant Conservation (GSPC); and is committed to continuing to highlight the key role botanic gardens play in delivering this Strategy. We are working hard to ensure the GSPC is viewed as a major success, but we can only do it with your help. Botanic gardens of every shape and size contribute to the GSPC in a myriad of ways, from public awareness and education programs to efforts to understand plant diversity and carry out plant conservation. Check out the results of our latest continent-wide project, the North American Collections Assessment.


NETWORKING AND TRAINING OPPORTUNITIES

Consider attending and presenting at one of BGCI's global congresses. Our global congress in Wuhan, China, drew nearly 1000 participants from 67 countries.

Take advantage of BGCI's training opportunities. Our International Diploma Course in Botanic Garden Education, is offered in partnership with Kew. Held every 2 years, this course teaches botanic garden staff to effectively design, implement, and grow conservation-focused education programs at their botanic garden. We anticipate that the next course will be held in fall 2012.