Make Your Collections Count!

BGCI''s GardenSearch and PlantSearch databases uniquely support the Global Strategy for Plant Conservation (GSPC) Target 8, and provide valuable tools for connecting botanical collections, expertise, and facilities to the global botanical community.
---

Progress in North America
BGCI US and the United States Botanic Garden are thrilled to share a
Progress report on Target 8 of the Global Strategy for Plant Conservation in the United States (1.5MB). Thanks to the 241 U.S. gardens, seed banks, and collections that contributed species lists to PlantSearch for this assessment.

This progress report builds upon the 2010 North American Collections Assessment which provides a novel baseline for threatened North American species curated in collections.



Make Your Collections Count!
To ensure we meet the GSPC Target 8 for 2020, BGCI US is working with the United States Botanic Garden to increase the quality and quantity of data held in PlantSearch and GardenSearch for the U.S., and we want to ensure we have accurate information for your institution!

Contribute a list of species and update your institution''s information - follow the PlantSearch Upload Instructions.
Special thanks to the Collaborators of the North American Collections Assessment.
Collections Assessments: a service of BGCI
Where does your garden fit within the regional, national and global botanical contexts?
How does your collection uniquely contribute to broader botanical and conservation initiatives?
These are questions that gardens everywhere are asking. In response to this growing need BGCI-US has developed a customizable collections assessment model to shed light on any collection's strengths and opportunities, and provide a broader perspective on the unique contributions your garden can make.

We analyze collections from the ground up with BGCI's PlantSearch and GardenSearch databases as a foundation and collaborations with organizations such as BG-Base and IrisBG. We characterize the current status of a collection at the plant, accession and name levels, and identify collections value for a garden's stakeholders. We explore ways to reach your institution's collections goals, and compare with other collections and identify potential partners for collection development activities.
Learn the unique value of your living collection and strategize your collection efforts based on broader trends and global conservation initiatives:
Characterize your collections composition, strengths and opportunities
Identify the conservation, education and research value of your collections
Uncover the global, national and local uniqueness of your living collection
Identify collaborative opportunities to build your collection
For more information, please contact us at usa@bgci.org.
---

Build Your Collections to Support Conservation!
Here's how:




Check out this collections guide, Building living plant collections to support conservation (3MB).

Featuring the Montgomery Botanical Center''s collections development and genetic diversity assessment. This guide is designed to provide a general blueprint to help strategically develop conservation collections.

This is the result of recently completed projects by the Montgomery Botanical Center and funded by the Institute of Museum and Library Services, involving BGCI US and the USDA''s Chapman Field.


2016 Cycad Ex situ Guide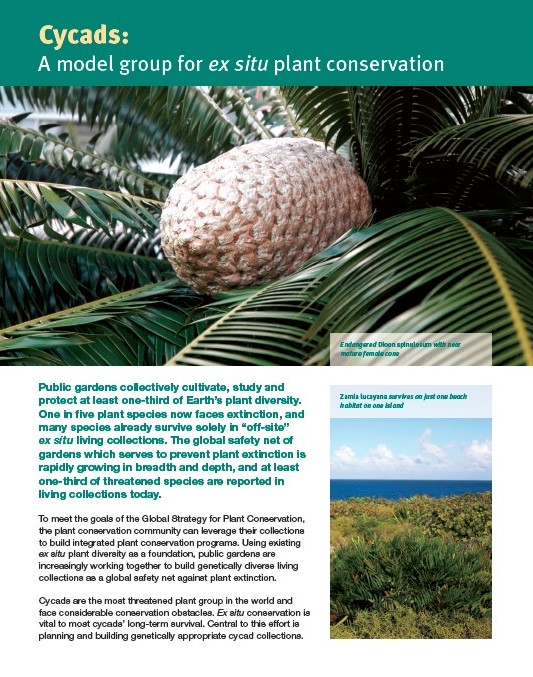 In partnership with the Montgomery Botanical Center, BGCI US has published an ex situ collections guide specific to cycads, the most threatened plant group in the world, Cycads: A model group for ex situ conservation (2MB). This guide builds on results of recently completed projects by the Montgomery Botanical Center, BGCI US and USDA''s Chapman Field and funded by the Institute of Museum and Library Services (MA-05-12-0336-12 & MA-30-14-0123-14), creating strong libraries and museums that connect people to information and ideas.
An additional outcome of these efforts is an interpretative sign for Zamia lucayana added to BGCI's Care for the Rare sign library, which is available for any garden to download and display.



2017 Global Ex situ Orchid Assessment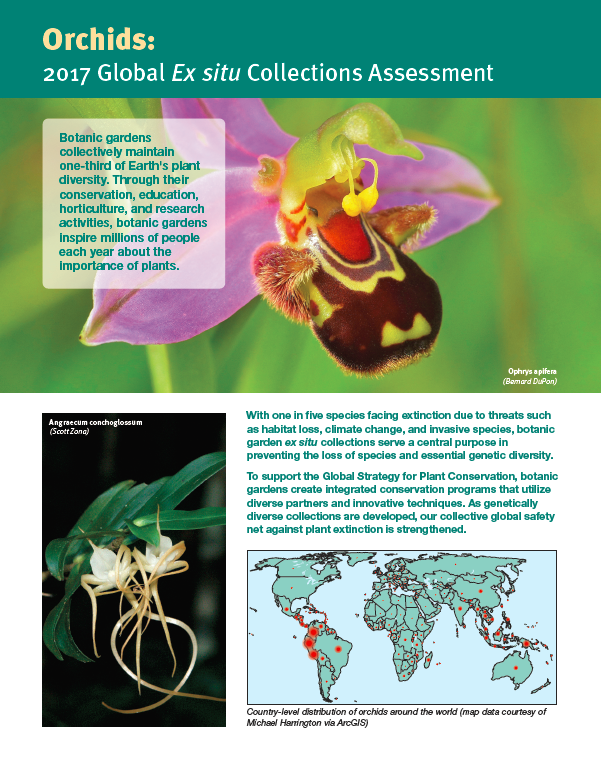 One of the largest plant families in the world, orchids occur naturally in nearly every ecosystem on Earth. Orchids are also economically important and often over-collected in the wild. Ex situ collections are a vital conservation measure offering protection to species away from their native habitat and any in situ threats. Ex situ collections can also form the basis of reintroduction and restoration programmes, therefore helping to improve the conservation status of orchid species in the wild.
The 2017 Global Ex situ Orchid Collections Assessment (1MB) highlights the 35% (272) orchid genera that are not known in ex situ collections, a vital conservation measure that could prevent extinction. Only 36% of threatend orchid species are reported by gardens, and a majority of those collections lack provenance information and adequate duplication across institutions. This means that very few orchid taxa have back-up protection if the threatened in situ populations are lost. We call for orchid ex situ collections to be expanded to contain a greater diversity of species and sufficient genetic diversity to prevent species extinction and allow their use in recovery and restoration programs, especially in biodiverse regions.
A big thanks to United States Botanic Garden for supporting this assessment and to all the botanic gardens that contributed data to support the findings. Download the report here.


---

Thank you for supporting BGCI''s ex situ collections database efforts.

Every garden can support plant conservation via PlantSearch and GardenSearch:
-It is quick, easy and free.
-Find out the conservation value of your collections and audit your plant names.
-Connect your collections, expertise and facilities to the global botanical community.
-Expand the collective knowledge of plant diversity in collections.