Interpretation Development
---
Download a PDF of our Interpretation Development Guidelines
.
Tips for creating species signs:
You may want to highlight species that tell unique and valuable stories! Here are some possible themes, which BGCI can help with (see details below):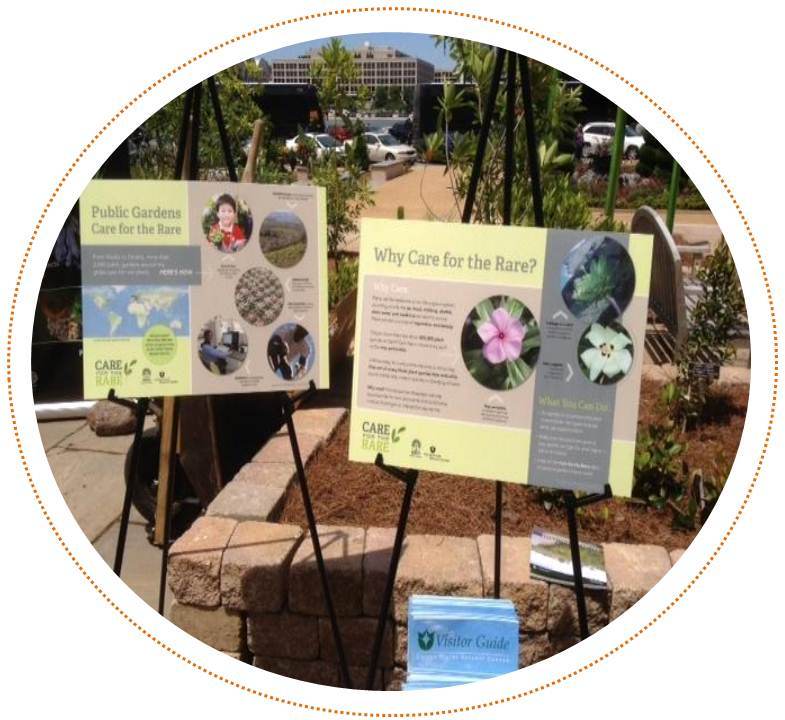 Threatened native species
Threatened species known only from your garden's collection
Threatened (native) species found in lots of collections
Species extinct in the wild (how public gardens can be an insurance policy against extinction)
Species that demonstrate geographic relationships – local to global
Recalcitrant species (value of seed banks and living collections)
CITES species (threats/trade restrictions of economically important species)
Threatened species that is a Crop Wild Relative
Species not currently threatened (predicted threatened, native, etc.)
Additional themes: medicinal value, orchids, alpine species, etc.
Unsure which species to choose? We can help.
BGCI can help you prioritize a list of threatened plants in your collection! You can access valuable conservation information about your garden's collection via the GardenSearch database. GardenSearch cross-references your garden's plant list with major threatened species lists, and tells you which plants in your collection are threatened in the wild, native to your region, and how many other gardens grow the same species. See our Interpretation Development Guidelines for detailed instructions on how to use the Garden Search Database to select species for signage.
Other Considerations:
Determine a realistic number of species to highlight; perhaps start with 5 species and increase the number through time.
Consider making an annual exhibit for Plant Conservation Day (May 18), or National Public Gardens Day in the U.S.

Species that may be in bloom during this exhibition: although not necessary, it may add impact.
Location of specimens for exhibit (if in one area or if distributed throughout your collection).

Integrate with broader interpretation efforts or themes at your institution.
Choose a realistic time frame: are there other exhibits or major events planned before or after this?
Sign logistics: Preferences for how to edit, print, post, maintain, or monitor the signs and any corresponding exhibit/tour? Consider creating a handout, map, cell phone, or similar guide to provide continuity for the exhibit; and integrate with online media if possible.
Additional Resources:
Image above provided by the United States Botanic Garden.