BGCI Opens New US Office
CHICAGO, USA
19 November 2007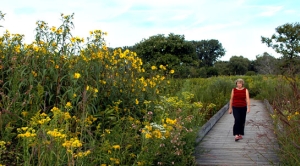 BGCI is proud to announce the opening of its new US office at the Chicago Botanic Gardens. Effective November 9th, the Chicago Botanic Garden will host the office of BGCI in the US and play a key role in helping coordinate the network's regional conservation programs.

This will build on Chicago's well established links with the American Public Garden Association, the Centre for Plant Conservation and the Plant Conservation Alliance, and plant conservation networks in Canada and Mexico.

In the past ten years, the Chicago Botanic Garden's plant conservation and science efforts have grown exponentially, from two scientists to a staff of 22 scientists and hundreds of graduate students, interns and volunteers, making it one of the most dynamic of the US botanic gardens.

"The opening of our US headquarters at the Chicago Botanic Garden marks an exciting milestone in BGCI's development. Combining our global reach with Chicago's incomparable regional expertise, this is undoubtedly one of our most exciting partnerships yet, creating a major force of plant conservation in the diverse, varied continent." Sara Oldfield, Secretary General, BGCI.