Species conservation in China
Ex situ and in situ conservation of four threatened magnolia species – M. longipedunculata, M. angustioblonga, M. hebecarpa and M. ingrata, Yunnan and Guizhou Provinces.
Partner: South China Botanical Garden

This project aims to research and implement viable ex situ conservation methods of the above magnolia species, as well as to establish of a stock of plants for population reinforcement programmes in situ. Following artificial pollination experiments and collection of propagation material in the wild, healthy stocks of saplings have been established (M. longipedunculata ~230 plants, M. hebecarpa ~200 plants and M. ingrata ~100 plants) at South China Botanical Garden (SCBG) and Dalingshan National Forest Park (M. longipedunculata ~800 plants).

More artificial pollination as well as vegetative propagation trials will continue for M. angustioblonga, as no significant seed material has been collected from the wild so far. A large bamboo scaffold has been built for artificial pollination attempts.
Bamboo scaffold for artificial pollination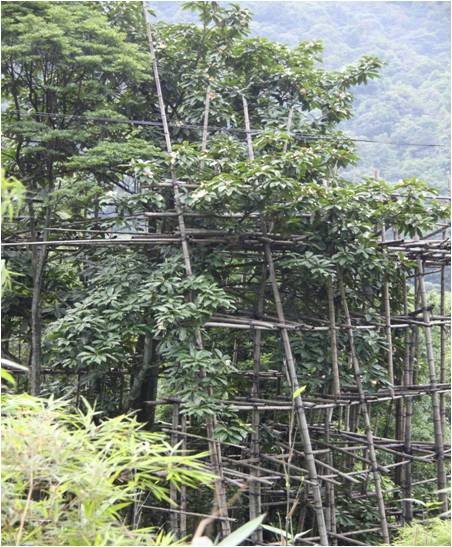 Prof. Zeng doing artificial pollination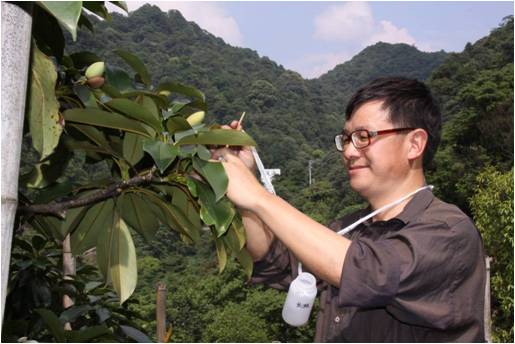 Further population reinforcement programmes for all target species are planned, following the successful planting of some 1000 saplings of M. longipedunculata at Nankunshan Nature Reserve.
Plants of M. longipedunculata reintroduced to Nankunshan are growing well